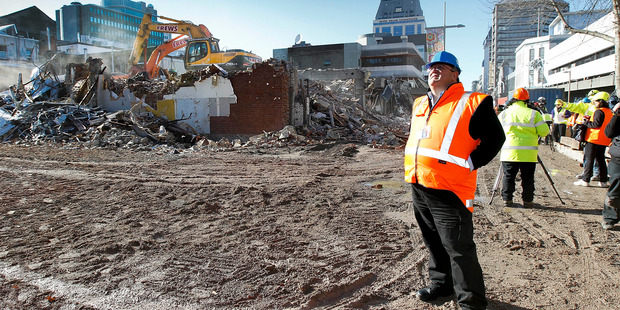 It is hoped a review of the Earthquake Commission will draw on the lessons learned following the Canterbury Earthquakes.
The Government has confirmed it will review the Earthquake Commission Act 1993 and report back on changes to the act next year.
Finance Minister Bill English and the Minister Responsible for the Earthquake Commission Gerry Brownlee today announced the review will be led by Treasury, which will establish a cross-agency group to oversee the review.
It will include representatives from the Treasury, the Reserve Bank, the Earthquake Commission, the Ministry of Business Innovation and Employment and an independent policy expert yet to be appointed.
Mr Brownlee said the bill will look at what types of property EQC insures, including the structure and extent of EQC cover, how EQC prices its insurance, the institutional structure and design of the EQC, including its roles, the financial management of the Crown's risk exposure and how it should be financed.
"The review is expected to be forward-looking so will not affect the processing or entitlements of current Earthquake Commission claims," Mr Brownlee says. "It is not intended to provide a management audit of the commission's performance in Canterbury."
"Having the EQC cover has meant that through the multiple seismic events, insurance cover has been maintained for existing homes. Our high level of insurance penetration means that the economic burden of the recovery is well funded."
More than 10,000 earthquakes and aftershocks have been recorded in the Canterbury region since the 7.1 magnitude earthquake on 4 September 2010.
Mr English said the Canterbury earthquakes were the most significant test of the EQC model since its inception.
"In light of the lessons learned from the earthquakes, the Government will review disaster insurance arrangements to look at where changes to existing policy settings are desirable."
EQC received over 414,000 building claims and over 93,000 land claims. It has paid out over $3.3 billion and its total claims expense for the Canterbury earthquakes is estimated at around $12.2 billion.
The review will consult industry and key stakeholders, and release a public discussion document in March 2013, inviting comment on proposed changes to the Earthquake Commission Act.
The Government intends to introduce resulting legislative amendments later in 2013.
Objectives of the review:
- Support the contribution of a well-functioning insurance industry to economic growth opportunities in New Zealand.
- Minimise the fiscal risk to the Crown associated with private property damage in natural disasters.
- Support an efficient approach to the overall management of natural disaster risk and recovery.
- Minimise the potential for property owners to experience socially-unacceptable distress and loss in the event of a natural disaster.
nzherald.co.nz, APNZ