Risk of unstable buildings not enough to deter criminals from hitting Christchurch's suburban red zones.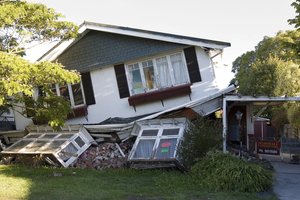 Married couple Paul and Jane had lived for several years in the eastern Christchurch suburb of Linwood without fear of burglary.
That all changed with the earthquakes. The 7.1 magnitude quake that struck Canterbury in September 2010 left homes and businesses around their neighbourhood damaged, and some became deserted.
People took advantage by squatting in the vacant buildings and their home became a target. Jane says: "We had never been burgled. I think we had been fairly lucky. That might be an indication [the burglars] have got more and more brazen. I mean, we are on a very busy street."
It was January last year when their home was first burgled, while they were on holiday.
"He came in and must have seen the back door broken," says Jane. Paul lost a four-track recorder, which he later found had been sold to a pawn shop nearby, along with some of a flatmate's jewellery and electronics."
A man was found by police and convicted in relation to the burglary. He had been squatting in an abandoned house in the neighbourhood.
In the February quake, two people were killed when a nearby shopping area collapsed, and many more homes became deserted. In May last year, the couple were disturbed by noises while in bed.
Paul went out to investigate. The back door was open and Jane's laptop, cash and keys had been taken.
"They definitely got interrupted by [Paul] coming out, because they had started pulling stuff out of his bag," says Jane. The couple had their locks changed and got a security system. They are now much more vigilant.
Says Jane: "There could be people squatting [in abandoned homes] right now who might come and take things - you just never know."
•Names changed to protect identities.
The numbers
Between January 1 and June 1, 2012, in Canterbury:
931 vehicles reported stolen, including:
283 Nissans (76.3 per cent recovered),
118 Toyotas (61 per cent recovered)
99 Subarus (65.3 per cent recovered)
595 of the 931 have been recovered (63.9 per cent)
(Vehicle figure does not include thefts of 76 motorcycles, 4 farm bikes and 73 trailers).
The series
Monday Auckland City
Tuesday Waikato and Bay of Plenty
Wednesday Waitemata
Yesterday Manukau
Today Christchurch.