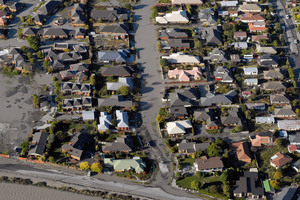 Only 104 of 1300 applications from homeowners who had their properties damaged during the Canterbury earthquake will be rezoned, the Canterbury Earthquake Recovery Authority announced today.
Of the 1300 appeals against zoning decisions received by the Government authority, 90 per cent were seeking a zone change from green to red.
CERA chief executive Roger Sutton said today 104 flat land properties in Burwood, Dallington, Linwood, Avondale, New Brighton and Kaiapoi have been rezoned costing the Government $19 million - 101 will have a zone change from green to red, and three from red to green.
Mr Sutton said staff at CERA had contacted the homeowners overnight to inform them of their changed zone - "most people reacted positively," he said.
Applicants whose were zoned TC3 and had their appeal turned down will be able to attend a public meeting to discuss options for TC3 land owners.
"Everyone who applied to be considered in the review will be sent a letter advising them formally of the outcome. These letters will arrive over the course of today and tomorrow and will give the property owners an outline of what they need to do next," said Mr Sutton.
"Of those changing to red, the advisory group found that 62 met the criteria outlined by Cabinet to be designated as red zone. These properties are in various areas of Burwood, Dallington, Linwood and Avondale.
"The other 39 properties did not strictly meet Cabinet's criteria, but on balance their land met its intent. This related to issues including isolation and unviability of infrastructure. These properties include all of Stour Drive in Burwood, and the remaining six properties in Porritt Place, Dallington," said Mr Sutton.
The three properties that are no longer zoned red will have their Crown offer withdrawn, and they will be able to progress their relevant Earthquake Commission and insurance claims to complete repairs as required.
"For the people whose land is now classified as red zone, the next step will be to return a consent form. That will enable the Crown to put together a purchase offer based on the 2007 valuation figures for the property."
They will have until March 31 next year to accept an offer and return their signed sale and purchase agreement and a final settlement date is April 30, 2013.
The review was led by Dr Keith Turner and followed the last zoning decisions which were completed in May this year.
- APNZ