Demise of Australia emphasises lack of class attacks - and neglect of Pacific nations.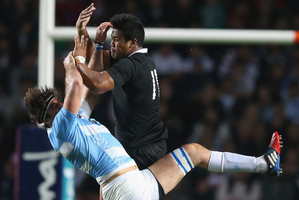 A world game? Come on rugby, who are you kidding? The All Blacks did what they have done so often before, hanging on during the bad times and finishing with a sprint to swat off Argentina.
But oh what an ugly war and the world champs are being made to look invincible by a lack of consistently genuine challengers outside of South Africa.
The All Blacks' composure under pressure is terrific, matched by their ability to strike when the opportunity arises. But this team isn't as good as the record suggests.
The overall standard of test rugby is pretty low, especially with the continued demise of Australia who have long provided much of international rugby's attacking class.
Rugby loves to stick pins on a world map, and runs an elaborate ranking system as part of the charade. The game is stacked with tough forwards who are masters at their job but there are so many tests where the attack is second rate.
Backline inventiveness and magic, the sort which Ma'a Nonu and Ben Smith conjured up for a try at La Plata, is rare and almost always provided by the All Blacks. Even they struggled to rise above the dross in Buenos Aires, and it was only superior fitness which got them home with room to spare.
Scan the game right now and identify the attacking test talents around the world who you think will grow into Brian O'Driscoll or Bryan Habana-type legends. The cupboard is fairly bare.
As Argentina plodded about, you could only consider again the way rugby's powerbrokers have patted the Pacific Islands teams on the head, while keeping them in their place. Fiji are too erratic but Tonga and Samoa would have been far better Rugby Championship bets. Instead, they have been left to languish because they are not part of the old boys network, allegedly don't scrub up financially, and the heavyweights probably suspect it's not in their interests to let them grow as they might.
Tests in and against Samoa or Tonga would provide the All Blacks with stiffer challenges than what we saw from Argentina yesterday morning. I sometimes wonder if the real reason for New Zealand and other unions' shabby treatment of those countries is they fear what they would lose, especially player wise.
Argentina won't raise the bar - they'll produce tough forwards forever but their backs will always be second rate apart from the odd exception. The Pumas forwards planted themselves in the backline too often yesterday, but they weren't all that inferior to the blokes who were supposed to be there.
Embracing Argentina would be easier if it didn't involve such an obvious insult to our rugby loving neighbours who could also add a marvellous attacking zeal and energy to the international game. Despite the huge gap in resources, Tonga and Samoa could smash the woeful Australians right now.
Rugby deserves a bashing because it pretends to be a world game, yet is actually ruled by narrow self-interest and has never protected or enhanced the prospects of the Pacific Island teams. Given a fair chance, those two countries can produce players skilful and technically good enough to win the World Cup.
Debate on this article is now closed.