Maintain integrity of game for players and spectators and consider off-field punishments for rule-breakers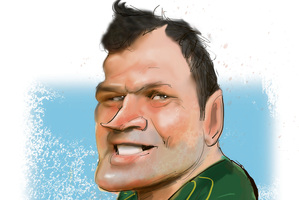 Here's another debate for rugby in the wake of the Bismarck du Plessis controversy.
It's time for rugby (and league) to consider keeping the full complement of players on the field at all times.
Punishing teams and thus their supporters by removing offending players is enshrined in the way we think about the game, but it is time to quit this heavily skewed playing field.
While some sports may be able to withstand an uneven player count, rugby at the highest level becomes an unacceptable no-contest. Yellow cards can also determine the outcome, even though they are dished out via subjective decisions.
The rash action of one player - or, as we discovered on Saturday night, the referee - too easily ruins the integrity and entertainment.
There is a hollow ring to the All Blacks' victory, so they have been robbed to a degree themselves, but not nearly as badly as the Boks.
Just imagine if this nonsense had blighted a World Cup final.
Sports such as American football and basketball have ways of punishing individuals and teams without damaging the entire game. Rugby can follow suit.
The first step for the IRB is to ensure all red and yellow card situations are video reviewed at the time, to prevent the sort of gross error that wrecked Saturday's test at Eden Park and has put a cloud over the legitimacy of this year's Rugby Championship.
But the IRB can go further and use heavy suspensions and fines for punishments and deterrents, while always leaving the game at 15 v 15.
Under this system, a red or yellow-carded player leaves the field, but a replacement comes on. This might have some negative consequences for the offending team through the loss of a replacement, but without turning the match into a joke.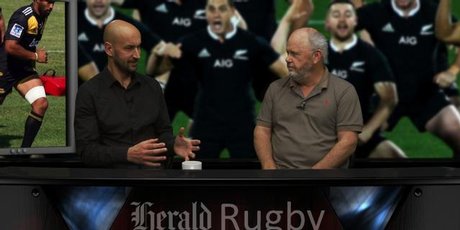 One of the unfair parts of the current system is that the removal of a frontrower, as occurred on Saturday, means an innocent player - in this case Willem Alberts - gets subbed off. Another is that a 79th-minute card does not have the same effect as a first-minute one, even though the offences may be the same.
In terms of safety, it is courting disaster to ask a test pack to operate a man down. Imagine the Springbok eight packing against seven Wallabies - it would be carnage.
And call this consumer rights - the Eden Park crowd has grounds to demand money back.
Bismarck offside or onside?
Emailers have suggested Bismarck du Plessis was offside, so there was an illegal element to the tackle on Dan Carter. Having looked at the incident over and over there is no way to determine this.
The camera work we were shown simply does not include du Plessis when Aaron Smith makes his long pass to Carter. Because of a short relay pass from Tony Woodcock backwards to Smith, there is every chance that the big Springboks hooker was indeed onside. But unless there is other footage, we will never know for sure.
Controversial cats crowd pleasers
Jimmy Spithill is on the money. The Oracle skipper says the controversial cats being used off San Francisco have won the day and proved team owner Larry Ellison right, after a never-to-be-forgotten 10th-race duel.
The inshore high-tech racing machines and suitably garbed sailors are thrilling to watch, especially with the cameras on board.
We've got used to this now - it is going to be very hard for the America's Cup to go back to mono-hulls tootling around distant seas.
There is always the chance of a mismatch whatever class is used - just look over the history of America's Cup racing - but these boats are spectacular winners.
Points deduction wrong decision
But ... I'd still argue that deducting two points from Oracle was wrong, and it has stupidly detracted from this contest. The argument that it was a Claytons punishment is also wrong considering the current score.
Whatever the future formats, it should be a given that the final two-team contest starts at nil-all. In this case, there is the added problem that no appeals could take place and an appeal process is integral to all forms of justice (although it is apparently given scant regard in San Fran).
At this point, I don't think the "cheating" findings are safe at all. If subsequent court action by individual sailors exonerated them, where would that leave the America's Cup result if Team New Zealand wins. The competition's jury rules are one thing, but natural justice is another.
Over-enthusiastic commentary
And finally... the America's Cup commentary team has taken a bashing. The problem for Martin Tasker is that he is first and foremost a reporter, not a commentator. But he is still too prone to feeling light-headed when things aren't going TVNZ's way or the racing is tense. Peter Lester is great for my money.
The veteran TV professional Peter Williams and Chris Dickson were excellent in the studio - Dickson still has those slightly scary eyes that helped launch our America's Cup fascination long ago.
One of the problems - of comparison - is the quality of the American commentators, who we have heard in small doses.
They are superb and have also provided a terrific lesson in conducting sharp, non-gushy post-race interviews.
They know their stuff, know what they are going to ask and don't sound in awe of their subjects, which tends to be a problem in the Southern Hemisphere football codes.