The club needs a strong management team to put an end to this run of losses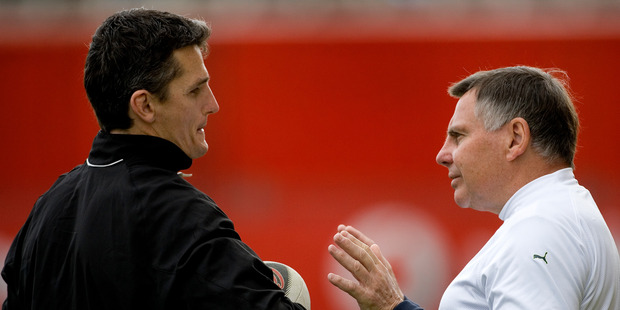 The Warriors' pathetic capitulation against Penrith was one of those disasters that every sports club hopes never happens. Keen observers with an ear to the ground were hardly surprised though.
The horrors of 2012 are not only alive and well under new coach Matt Elliott, they have actually found new depths. The Penrith flop was one of eight losses in 10 games this season, leaving the solid progress that brought a grand final appearance in 2011 as an irrelevant memory.
Where has it gone so wrong? The inner core who had engineered the club's revival has been broken up - Ivan Cleary, John Hart and Tony Iro have headed out the door, and John Ackland won't be far behind. Elliott, who had a poor record as the first-grade coach of Canberra and Penrith, is now in almost total control.
The new coach isn't the only one culpable by any means. The 2012 coach Brian McClennan made crucial mistakes, and there are players who need to take a long look in the mirror.
The gifted but dangerously erratic Feleti Mateo, for instance, hardly celebrated his new contract in style against the rebuilding Panthers. Mateo should be a leader, not a follower.
CEO Wayne Scurrah must be in the gun, along with Elliott of course. The Penrith shambles sent a message loud and clear - the current team lack belief and spirit, and are confused tactically. There was no sadder sight than captain Simon Mannering, one of the club's finest servants, struggling for form and words. Mannering looked like a startled cat after the match. He is starting to cop criticism, which is how life goes in the fast lane. But the seeds were sown the moment Elliott arrived, when he held a very public search for a captain, a drawn out insult to the incumbent Mannering. This kind of debilitating grandstanding was the very thing that the Cleary regime had worked so hard to eradicate after the crazy years under CEO Mick Watson.
So what of Elliott? The club, under the new ownership team of Owen Glenn and Eric Watson, chased Melbourne Storm "super coach" Craig Bellamy after McClennan exited. Having failed there and elsewhere, they signed Elliott and kind of pretended they had found a super coach. In the process, they have apparently conferred extensive powers on a man with a record that demanded more caution. The Herald has devised a rescue plan.
1. Bring back John Hart ... as CEO
The former All Blacks coach was the central figure in engineering the turnaround under Ivan Cleary. Hart took a big risk coming on board as an executive director, crossing the rugby-league divide. But Cleary and co revered his influence and mentoring role. He is understood to have brought common sense, skilled communication, stability and cohesion to proceedings, including in contract dealings. Under Hart, there was a logical hierarchy to the contracts and outlandish demands were kicked into touch. Hart's many years of learning in the brutal rugby spotlight proved to be mana from heaven for the erratic league club. Would Hart contemplate a return? He is said to retain a great affection for the club and players and will no doubt be saddened that all the good ground has been lost. But Glenn is a challenging owner. And given the reason for Hart's 2011 departure - what he saw as the mistreatment of Cleary - this is a long shot. The Warriors are falling apart under Wayne Scurrah, judging by on-field performances. He is reputedly skilled in marketing but flailing as CEO - so bring back Hart.
2. Get Steve Price
The great Warriors prop, who has stayed in Auckland rather than return to Australia since retiring, has his eye on high level league administration and would bring so many assets. If Elliott is to stay, the club needs strong and experienced football people around the battling coach. Whether Elliott is there or not, the charismatic Price would bring vital nous and mana to a club that looks ready to sink. He's rescued it before as a player, he can do it again from an office. From what I can ascertain, Hart and Price can work together. Would Price take a Warriors job on? Being groomed as a successor to new CEO Hart should be tempting.
3. Retain John Ackland
The arrival of Hart and/or Price would take care of that. Otherwise, Ackland will head out the door at the end of this season if the current regime stays. The loss of the junior coach and scout - the trusted conduit between local talent and the club - would be a disaster. An inference by Scurrah - surely at Elliott's behest - that Ackland hasn't produced the right players for first grade is wrong and a case of ridiculous scapegoating (although no system is perfect). More significantly the Warriors have a long history of recruiting erratically - in terms of more established players - out of Australia and England. And Ackland is hardly to blame for the loss of tough first graders like James Maloney, Lewis Brown and Elijah Taylor who can create the right conditions for the juniors to be promoted into.
4. Stop making ridiculous statements
There was a rush of adrenalin under the gregarious Glenn. New chairman Bill Wavish reckoned "We are no longer talking about when we win the first championship, but how many we win."
Clubs need ambition, but best keep feet on the ground when opening the mouth. The NRL is a tough arena. Cleary's reign is recalled fondly in light of the current disasters, but remember that his Warriors were smashed by Brisbane in the 2011 finals and only lived to fight another day thanks to a wonky playoff system.
Cleary's overall record was decent in the circumstances, but not startling. Titles don't fall out of trees. Mad public utterances only make the task harder. Unreasonable expectations create distractions and unwanted extra pressure. In those situations, people do strange and destructive things.
5. Cut out the new-age nonsense and get back to basics
The NRL's boss David Smith wants to turn the Warriors into a travelling circus, playing more matches around the country after drawing a 30,000-plus crowd in Wellington. Scurrah didn't exactly knock Smith back. More madness.
The Warriors have a terrible record at New Zealand venues outside of Mt Smart. The aim should be to create a fortress - not surrender home ground advantage.
Get the competition points and all the good stuff will follow. (I'd scrap the Eden Park dalliance as well).
6. Get a bit more sports/league knowledge on the club's board.
There needs to be a balance, but it is too skewed towards business at the moment.