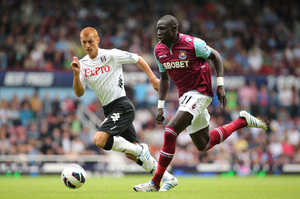 The scale of sport's latest disaster is so immense it is hard to take in.
And when soccer has had time to digest the details, we can only hope that the world game takes corruption and match fixing/tampering more seriously, and deals with it more effectively, than silly old cricket has.
This feels surreal, like someone is hinting at a sporting apocalypse without wanting to say as much. The magnitude appears frightening.
European police have identified 700-odd suspicious matches (about half in Europe) over many countries, involving hundreds of club and match officials, players and crooks in various levels of professional soccer. The main source of the corrupt operation is said to be Singapore.
SEVEN HUNDRED MATCHES - and someone even dared utterthe phrase "tip of the iceberg". How on earth do you deal with something that big?
Match fixing in soccer is not new - top British footballers, including one good international, were jailed and banned for life in the 1960s. But that was an amateur hour production compared with what Europol is uncovering this time.
The automatic question to ask here is how can this scale of corruption have been going on without earlier detection or the spotting of warning signs? Dare we say it, a few blind eyes MUST have been turned along the way. Then again, as tricky as it must be to rig even part of a game - one fix involving a Hungarian team playing against Liverpool in 2009 failed to produce the required number of goals - how do you spot the deliberate errors in a free-flowing sport full of legitimate mistakes?
You almost daren't look at what might follow, for fear of having one of life's joys destroyed, but look we must, and the matches under investigation include World Cup qualifiers and Champions League games.
So go hard Fifa and every other soccer authority dealing with this. As a starting point, don't follow the lead of cricket, which would welcome back the devil himself so long as he could bowl a handy outswinger. Soccer must admit to shock and outrage, be ruthless in finding the culprits, or demanding that they be found, and in banning the scumbags for life. Whoever needs to be thrown out of the game should be thrown out, for good, no matter how big or small they are.
This feels like a point at which soccer must consider it will sink or swim - draconian punishments and deterrents, plus an emphasis on educating young players about their responsibilities and the dangers, are part of the answer. Soccer may already have been too soft in places like Italy where scandals have been uncovered previously. The time is right to get really tough.
Law and out of order
Thank goodness for Stu Kearns, the former policeman once in charge of a serious crash unit. I hardly knew what to do with the sense of outrage on first reading that a sportswoman had been discharged without conviction and her name suppressed, for drink-driving, on the basis such a record would allegedly hurt her ability to compete overseas.
The outrage Kearns expressed - he called it "disgusting" and a "mockery" - in yesterday's Herald helped ease my own anger somehow.
I haven't found anyone who can fathom Gisborne District Court Judge Graham Hubble's decision. We all feel so powerless when faced with clear breaches of trust by people in high places, when the law is applied so deliberately unevenly.
Maybe Judge Hubble should spend a few weeks riding with the emergency services who deal directly with the carnage - the crushed bodies, the emotional pain - caused by drink-driving. As a judge, though, you assume he knows already.
The burning sense of injustice is overwhelming. Judge Hubble is also intentionally denying other countries proper information about potential visitors. As a respected member of the international community, we should act with more integrity.
As for the sportswoman herself, it's not too late to do the decent thing and fess up in public. Hiding away will unfairly cast suspicions on others.
Your lawyer may be chuffed with her work, but guilty little secrets burn away inside. You'll never quite know who knows, because stuff like this always gets out one way or another. A look here, a glance there - is that person looking at me differently? And they won't be thinking nice thoughts because while the original crime was bad enough, it's the highly unusual business that came next which sickens people.
None of us are perfect. But having been caught - as you were - an honourable citizen will admit to this crime and accept the consequences.