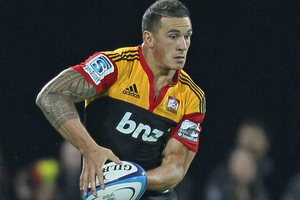 Rugby's Masonic Lodge mentality is alive and well.
The bigwigs know where Sonny Bill Williams will play next year. But secret squirrel, Tinker, Tailor, Soldier, Spy, invisible ink and all that - THEY WON'T TELL US.
Even some of his teammates are said to know, those lucky enough to be in the I Know What SBW is Doing Club.
Well, tell us something we don't know about New Zealand rugby, which hasn't wanted to tell the public anything for about, let's see, 100 years.
My guess is that if Sonny Bill was staying in New Zealand rugby next season, he'd say so because there is no reason not to.
So he is probably going, for now, although with itinerant, option-heavy Sonny Bill there's always a chance he will come back. For the next World Cup maybe, which might be why the NZRU is so desperate to play along with his game of silence.
But what about all those poor buggers like teammates who do know and have to seal a lot of lips.
"Hi honey, I'm home, but don't ask me about Sonny - all information is on a need-to-know basis."
Word will get out, because word always gets out in Australian league, and kind of already has - SBW will join the NRL's Sydney Roosters for one year via Japan.
Here's the nub of the matter. If Sonny Bill Williams quits long-term for a return to Aussie league or a career with Don King or in the Amazonian Mud Wrestling League, it will be a massive loss to the All Blacks, Chiefs and New Zealand rugby. No doubt about that any more.
I'm also a league fan, so can't wait to see him back in the game he was raised to play, but loyalties have become heavily divided. Sonny Bill has leapt ahead to become a superb rugby second five-eighths, and the best is yet to come.
He's flourished under Dave Rennie and Wayne Smith and alongside Aaron Cruden and Richard Kahui at the Chiefs.
Take Sonny Bill out of the picture, and the All Blacks' midfield stocks are thin.
He's set new standards and is on the road to joining the best-ever debate.
Big tackles, hit-ups, gap runs, chip kicks, offloads, a confidence boost to teammates ... the only things missing are a long-range kicking game, a touch more dexterity and instinct, and positive proof against a heavyweight team like South Africa. But they will come.
The I Know What SBW is Doing Club may involve exclusive membership, but his rugby fan club is rightly over-flowing.