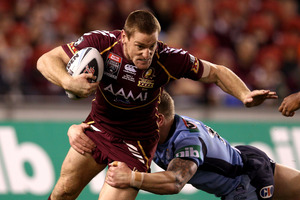 The State of Origin almost always finds a way of delivering a memorable time even though Wednesday night's match in Melbourne was drab by the best Origin football standards, save for a couple of tasty controversies.
Some loved the game, but there were many average performances, which may be why a couple of handy but hardly sensational runs by new Blues prop James "Turncoat" Tamou had a commentator or two in raptures. Hardly anyone had what you would call a brilliant game. The more rugby league promotes the Origin the more it has to live up to, and not every match will scale the increasing heights of expectation.
But when you have a belligerent losing captain like Paul Gallen, a pugnacious losing coach such as Ricky Stuart, an arrogant refereeing boss named Bill Harrigan, a forensic approach to officiating the game and a lot of steam to let off, headlines will flow like the blood once did.
A close scoreline kept the game interesting, but the stars didn't twinkle and the support cast had little to cling to.
The best player may have been the one-man casualty ward Brent Tate, the Queensland back who plays every match as if it will be his last, which a number almost have been. The snarling Greg Bird with a character made for these battles was also very good for New South Wales. Jarryd Hayne danced and twirled brilliantly. Conversely, the oft-troubled NSW playmaker Todd Carney, making his debut, was average at best. None of the key stars shone at all or for very long but Johnathan Thurston did enough, and the giant Greg Inglis was influential.
The referees lacked authority, which is not entirely their fault because the video review controls many important decisions, and there is an even bigger Guy in the Sky named Harrigan who comments on anything and everything his referees do. They didn't need a twin refereeing system in Harrigan's days because he had an ego big enough for two.
Stuart - a fine player himself - is thoroughly unlikeable. The man who turned "Turncoat" sees life in many ways, all of them from his own point of view. Disgracefully, he reportedly banned his players from speaking to the media after the loss although not all complied.
Sitting behind Stuart in the NSW coaches' box in Melbourne was the league legend and former Kangaroo coach Bob Fulton, no great shakes as a statesman either. Fulton once hoped, publicly, that a cement truck would run over referee Harrigan. Fulton's shabby behaviour towards a referee after a 1995 World Cup match against the Kiwis won't be forgotten.
New South Wales have every right to be upset at losing their scheduled 2-1 hosting advantage this year so a game could be played in Melbourne, an Aussie Rules stronghold to put it extremely mildly. Rugby league is wasting its time trying to make significant inroads there, and the Origin series is better sticking to the league heartland and a fair home-and-away system. But if a subsequent report that the Blues players will snub the media as a protest against a perceived administrative bias is correct, then they are misguided brats of the highest order.
Controversial decisions aside, New South Wales - with a confused Carney going AWOL - didn't do enough on attack to deserve to topple the champs. It was surprising to find the master rugby league writer Roy Masters praising Carney.
Media coverage of the Origin is half the fun, or even more than half the fun sometimes. There has long been a need to tread warily with the Australian rugby league press because certain key reporters have very close links to certain key league figures. In return for precious news, those writers will toe and promote the opinion line of their star informants.
The effect of the bitter state rivalry on the opinion makers cannot be underestimated either - so strong is the antipathy that an Australian team that toured New Zealand in the 1980s was ripped apart by Queensland-New South Wales divisions. By far the greater conflict and political intrigue happens in New South Wales and series loss after loss plus the Stuart influence is making the Blues sound bitter and twisted. Stuart should ponder how he could get better value out of Carney and the Stewart brothers who were nondescript.
Some of the best post-match analysis on the controversial Inglis try came via Jason Taylor, a former Blues halfback. Taylor doesn't delve into intrigue and join the dots like the brilliant Masters can but his dry tactical analysis is thought-provoking.
However, reliable NSW heads are in short supply. This long-time Blues supporter is veering towards the neutral corner while Stuart and the excuse-making New South Wales mob run the show.
A fuse was lit in Melbourne, one that should see more explosions in the final two games. The really attractive thing about Origin is that no love is lost, and everyone is playing for keeps. There is no rest and rotation, no grandiose knighthoods and a lot of open wounds. The ugliness is part of Origin's attractiveness, truth be told. This is a dog-eat-dog scrap and we devotees can't wait for more.