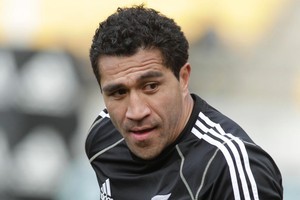 Bring Back Mils.
This doesn't have the same ring to it as Bring Back Buck, nor the handy alliteration. But with Daniel Carter out of the All Black backline, Mils Muliaina may be needed to steady the ship should our brave lads strike choppy semifinal waters.
This is the time for hard-nosed thinking rather than getting too soppy about the bitter blows that life can deal.
Sentiment and human-interest stories have flooded forth since Carter's World Cup campaign was cut down and Colin Slade stepped nervously forward. (Well, he might not be nervous, but I sure as heck am.)
Slade's life past and present has quickly become big news, but mums and old football coaches don't win test matches and the newly anointed No 10 looks about as safe as a Greek bank.
Overall, there's still a lot of dash in that backline, but not all that much proven test steel and common sense.
For all of their potential and the flashes of brilliance, the new top fullback Israel Dagg plus Richard Kahui and Sonny Bill Williams are still babes in the test wood. Kahui and Williams, if used on the wings, are also playing out of position.
Added to that, Ma'a Nonu is hardly a tactical genius or calming influence, and the All Blacks' No 1 halfback has not been established. What of the other choices? Zac Guildford, Isaia Toeava - I rest my case. Without Muliaina there, Conrad Smith is the only experienced rock left in this backline, which is a recipe for trouble. The relatively young guns won't be tested against Argentina, but Australia or South Africa represent a very different story.
We all know what happened under pressure against France in Cardiff four years ago. Muliaina at fullback with Dagg on a wing might be the best option.
As for the No 10 spot, Piri Weepu gets my vote. Weepu looks comfortable in the pivot role and even pulled out a nice trick or two against Canada. Weepu has played 50-odd tests compared with Slade's flaky few, and looks like he enjoys being out there. Experience and composure under pressure is vital and Slade appears jittery.
Graham Henry has given Slade a medium-sized tick. If things go even slightly pear-shaped against Argentina, don't be surprised if the tick reappears elsewhere.
Anyway, back to fullback. Better get the T-shirts printed and the Facebook campaign started - Bring Back Mils. You may even get to follow this campaign via Twitter.
Going easy
Graham Henry asked for "sensitivity" around media coverage of Carter's injury. In all seriousness, what exactly does that mean? I wish someone had asked him. We're hardly likely to attack his groin for failing.
Henry also asked the media to be supportive of Slade. This is not a humanitarian mission - it's a Rugby World Cup and people who like Slade can support him, and those who doubt he's good enough can also express their opinions.
Wayne's world
Isn't the World Cup fun? This Carter business has got all sorts of scenarios whizzing around in the head. Could it be that halfback Andy Ellis now takes centre stage?
Jimmy Cowan is out of sorts, and Weepu - who is hardly the fittest bloke on the block - covers Slade. Fitness is not on Slade or Weepu's side and both might struggle to go the distance in a torrid game.
Wayne Smith's backlines are amazing kaleidoscopes - you can twist and turn them for hours and still come up with colourful new shapes.
Egos and money
From our international desk: A friend visiting France says "locals" have told him their rugby and soccer teams are both "f***ing nuts" (not sure if that is a direct translation).
They reckon the French rugby side is ruled by egos and money, rather than camaraderie and trust, which could mean that coach Marc Lievremont is not entirely to blame for internal ructions.
As for the problems involving French rugby and football coaches - turning on the boss is a national trait apparently.
Our roving correspondent was also staggered to find Daniel Carter's injury rated as the third highest tracking news story in Europe. Those Europeans have no respect - surely it had to be No 1.
Higher power
The IRB will not be stopped when it comes to protecting their sponsors. I am told the latest directive informs the World Cup teams that any religious messages on the players' wrist bandages - and there are a few of those - need official clearance. Supporting your higher power is fine, but presumably if your higher power wants to promote anything such as a renegade mouthguard, it's not okay. (Will referees now be asked to check both sprigs and wrist messages before games?)
A lot of players mention God in interviews - as did the Aussie wing Digby Ioane yesterday - which might also raise fresh pastures of investigation for our ever-vigilant world rugby authority.