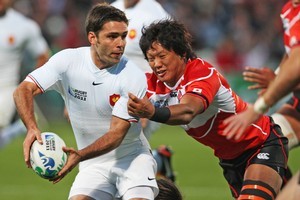 The All Blacks could have sent out a World Cup statement against Tonga but posted an invitation instead.
Come and get us. We're vulnerable. We don't know what our best team is. Some of our forwards are tired.
Yet two of the the teams who should have been most eager to RSVP - England and France - performed even worse in their opening assignments.
And please, please, please - if there is a sporting God, don't let England win the World Cup with repeats of their effort against the barging Argies.
We're not all England naysayers down here and a few of us actually enjoy snippets of the juggernaut rugby they play, as a contrast to our hopelessly naughty, frivolous attitude to the mighty sport.
England, however, are all launching pad and no rocket. The most under-rated player of the wonderful 1970s, the rampaging wing David Duckham, remains an enigma rather than an inspiration in the English game.
There was a lot of manure in Dunedin's Hothouse.
While we're on about England ... how very clever, turning up for a World Cup wearing the host nation's colour as an alternate strip. A city whiz kid must have taken all of 10 seconds to think up that bright idea.
You can investigate all the angles, like the one about how the All Blacks have traditionally worn a white alternate jersey, with black shorts it should be noted.
But what England have done in replicating the All Black strip, the timing, is so obvious. Yes, yes, we're silly-headed, thin-skinned Kiwis who get upset over nothing. Yawn, yawn, yawn. And the black strip is a perfect, attention-seeking marketing ploy.
As a point of order though, the All Blacks never designed their other strip as an insult. As the witty English know so well, we're a very limited lot lacking in imagination. When faced with the tricky task of finding something that wasn't black, we came up with - quite innocently - white. Boring, I know, but that's us.
The joke is on England so far. When England wear white, their stumbling game looks vaguely noble because it is their way of playing and they are proud of that.
As with Greco Roman wrestling, there isn't much joy in watching them but you do marvel at how muscular grapplers are prepared to spend their time.
But when England's most turgid game is also dressed in a mocking frock they look like fools. The 2003 champions should forget the cheap tricks and have more pride, more class.
If England want to copy the way other teams play instead of dress, Martin "Jonno" Johnson can review the tape of Japan's startling attack on France.
Japan nearly caused the upset of upsets. None of us had the remotest inkling that John Kirwan's side could be that good. Kirwan and Co should be damn proud of themselves. France panicked their way out of trouble in an amazing cauldron of noise at North Harbour Stadium, which is more used to witnessing silent burials of the local provincial team.
Unfortunately, having spent their emotions against France, Japan will be smashed to pieces by an All Black side in Hamilton. For all their faults, even these All Blacks will deny any minnow a sniff. There will be no mercy.
There was also a terrific buzz at the International Stadium in Rotorua, where Namibia punched above their usual weight before a raucous 10,000 crowd. The Fijian fans were out in force along with plenty of Namibian supporters.
There are few more thrilling sights in sport than flying Fijian backs, but one of them is flying Fijian forwards. A run and pass from their lock Leone Nakarawa sticks in the memory. Faced with another demoralising World Cup defeat, Namibia threw off the shackles and did their very best to reply in kind. They won a fair few hearts for that.
The disappointments include Tonga. They had a royal chance to rattle the All Blacks' cage and missed out. Once again, Eden Park failed the atmosphere test.
So the tournament has kicked off in many different shades, from grubby black to the sparkling red of Japan and even the shiny yellow of Romania. Instead of standing out as tournament favourites, a ramshackle All Blacks performance against Tonga blended in with the eclectic World Cup crowd.