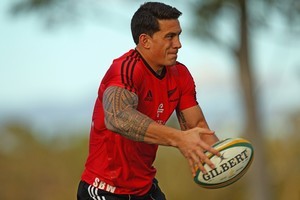 The All Blacks are crazy if they shut the door on Sonny Bill Williams should he choose to play rugby overseas.
The apparent shift in public opinion against Williams is staggering considering the magical effect he has had on the game, not to mention that Blind Freddy could see what New Zealand was getting.
Empowered by his aggressive management and stablemates, and through surviving the Bulldogs scandal quite nicely, he can be a law unto himself.
This may have shocked our little neck of the woods, but honestly troops, it is par for the course in the world of professional sport. Like many, many sports stars - plus pop culture and movies stars for that matter - Sonny Bill has the power to make others dance to his tune. You either get on the dance floor and learn the rules, or miss out.
One former SBW fan said he felt like a "jilted lover", a wonderfully honest description which explains the general response to Williams backtracking on his pledge to stay here another year.
And yes, fans are let down by their heroes at times.
But save the tears and look for the angles. New Zealand rugby would actually benefit from listening carefully to his manager Khoder Nasser, rather than bagging him out of hand.
I'm not a fan of some of Williams' behaviour - what he did to the Canterbury Bulldogs was unforgivable. It still annoys me. But there are far bigger crimes against humanity than a footballer who dumps his club and fans.
He's also stuffed up his own rugby career so far. Williams' insistence on boxing during the World Cup season drained him and diverted his attention when he still had a lot to learn. Then again, the NZRU let him do it, and Graham Henry turned up to watch a bout.
But those who say good riddance are off their rockers. Sonny Bill Williams is one of the greatest things to hit New Zealand rugby and sport.
He still lacks the rugby instincts but they will come, and this bloke can really play.
Yes, he gets a few things wrong, but the good stuff is sensational and has already given other players new horizons.
Sonny Bill Williams has so much more to give New Zealand rugby. To discard him now, to put him out of the All Black picture, would be a crying shame.
The NZRU needs to look at its overseas policy again. The current bosses are playing God the way they kiss some players and kiss goodbye to others.
I admire the way that someone like Nasser is finally calling the NZRU bigwigs out, and challenging the way they bestow favours on a few. There is some irony in this of course, considering that Sonny Bill benefited via his boxing clause.
People don't like the cut of Nasser's jib. He is bolshie, and totally committed to his clients and maybe even himself. He's just more obvious about it than a lot of others.
When the game went professional in the mid-1990s, a small group of lawyer/agents took control of New Zealand's players, and entered into mainly amicable negotiations with the NZRU during potentially tumultuous times.
That was best for those times, but rugby needs to find a new era of vitality and enterprise instead of allowing itself to be run into the ground by a Kremlin mentality of insider dealings.
If Colin Meads thinks the "districts" are struggling, he should plonk his fenceposts down for a few days and check out the big smoke. And Sonny Bill Williams could do wonders for Auckland rugby. He could help relaunch the sport here.
The blazer brigade running Auckland rugby might realise his value, but even if they do, they are at the mercy of the NZRU's whims.
Whatever the outcome, the NZRU can't be allowed to farewell this publicity magnet, and a genius of a player despite the flaws, with the wave of one of its ubiquitous press releases.
As for management standards, I'd look at the loss-making NZRU before starting to pick Nasser apart.
Whatever you think of the specifics, the wider inference of what Camp Williams says is correct. There are cosy relationships within the game - with rules for some and a fair few jobs for the boys.
Sabbaticals are dished out like lollies to the golden ones while others get the cold shoulder.
Nasser may even be right in saying Williams is being denied commercial latitude that has been given to others.
And how about this? No sooner had Dan Carter and Richie McCaw got their super deals than we found they were going into a coaching website venture with Graham Henry and Wayne Smith. Should individual players really be so close to the national coach? And did this play any part in the players' NZRU negotiations?
Bottom line: Forget the jilted-lover bizzo - Auckland and New Zealand should fight tooth and nail to keep SBW here.
And once again: if Sonny Bill Williams bypasses the world mud wrestling federation and does play rugby overseas, and the All Blacks exclude him on residential grounds, they are bonkers.