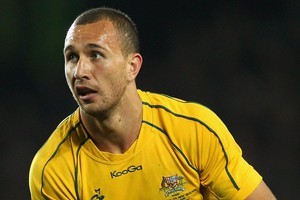 The Sanzar judiciary descended even further into its circus tent by clearing the cowardly act of Quade Cooper.
The judicial officer Jannie Lubbe must be having a laugh if he thinks the public will fall for his verdict yesterday, in which Cooper was exonerated for kneeing Richie McCaw in the head during the latest Suncorp Stadium test. Even hardened Wallaby fans would acknowledge they have dodged a World Cup bullet.
Rugby should take acts of violence more seriously. The game does sometimes, but not always.
The incident was as plain as day. Cooper glanced at where McCaw was on the ground, got the radar working, looked up (presumably to give himself an alibi) and drove his knee to where he knew McCaw's head was.
Absolutely, without a shadow of a doubt.
Cooper's excuse, that rugby is a contact sport, has nothing to do with what actually happened. If everybody played the way Cooper does, it wouldn't be much of a contact sport at all. The only contact he ever seems to make with any intent is when McCaw is on the ground. Otherwise, Cooper goes missing, big time.
His claim he was only trying to get to the next play is a lie. The quickest way to get to where he was going was to avoid McCaw. Lies, lies and more lies - which is what a lot of sports judicial hearings (and court cases actually) are about.
I love Quade Cooper, the attacking footballer. He is just about the best thing in rugby, a breath of fresh air with magical skills who takes risks.
But he's also emerging as a right pillock. At a pinch, you might excuse his immature low-rent shove on McCaw and his mouthing off after the Wallabies' last-gasp win in Hong Kong. It was childish yes, but the Aussies had finally won after a lot of beatings and it wasn't a dangerous act. This was the Phil Kearns fingers all over again.
But this time he attacked McCaw's head - no doubt about it. Sanzar is doing the game a disservice with this ruling - World Cup or no World Cup ramifications. Even a one-week suspension - while grossly inadequate - would have acknowledged they can spot violence when it stares them in the face.
So here's the truth for mums and dads considering whether to let their kids play a sport which has left many young men crippled. The people who run rugby condone players kneeing each other in the head. Look at the Cooper replay and let your intuition take over.
Had a class act like Daniel Carter or Jonny Wilkinson been in the same position, the player underneath would have escaped a knee to the scone. And my World Cup wish: some Brian Lima-type gets a legal shot on Cooper that knocks him into oblivion. This cheap shot merchant deserves it.
STAY CALM
Breathe easy, All Black fans, because their third-quarter comeback against the victorious Wallabies shows that Richie McCaw's troops still have the goods to smash their transtasman rival when it counts.
A pulsating test match and the Tri-Nations title were deservedly won by Robbie Deans' inspired Wallabies, but they weren't nearly good enough to start biffing out the World Cup predictions. Not that the All Blacks have got enough things right.
They are in the ascendancy despite themselves.
Graham Henry and his fellow NZRU golden boys have got at least one of the World Cup selections horribly wrong, as most people with half a clue knew anyway.
Zac Guildford is among the silliest selections in history when you've got two power matchwinners in Hosea Gear and Sitiveni Sivivatu twiddling their thumbs. Picking Guildford is like watching Colin Slade bomb out against South Africa and selecting him, which they also did.
Guildford will get a wonderful view of the World Cup without paying but that's about it for the test rookie, who has the goods to come back but doesn't have them now.
All is not well elsewhere: Mils Muliaina looks tired and over the hill. How the heck did Israel Dagg fail to make the match 22, as a wing or fullback? Some World Cup selections are seriously astray, and the decision not to bring back Carl Hayman and Nick Evans displays a lack of ruthlessness or misplaced cockiness.
Given the strength of the All Blacks' turnaround in Brisbane, questions must also be asked about McCaw's captaincy. There was more than a hint of the 2007 quarter-final debacle to the way the All Blacks were unable to turn the tide before the halftime break sorted out their game plan.
And the big one: dare it be said, but Daniel Carter does not string world class performances together any more. Just like the NZRU's other favourite son, McCaw, he failed to take this test by the scruff of the neck as it unravelled in the first half. Carter is still taking sabbaticals.
And yet despite all of that, the All Blacks smashed Australia in the third quarter and almost won.
Even in defeat, the All Blacks were able to flick a switch and rumble the Aussie pack.
The All Blacks, and others, smell blood at scrum time. Without Benn Robinson, the Wallaby scrum is a torture chamber for their pack.
The Aussies were fresher, had the magnificent Suncorp Stadium advantages, would have been charged up by the captaincy change, and were helped by the All Black selectors' obsession with shuffling lineups. The All Blacks lost one of their driving forces, Kieran Read, early. Transfer these two teams into the World Cup, where a settled All Black combination will play in front of roaring home crowds, and normal carnage resumes.
The Aussie tight five is still soft, their scrum can be smashed, the goalkicking erratic. Trump card Radike Samo - who was sensational - ran forever for one of the great test tries and then ran out of steam.
The Wallabies had the chance to put the All Blacks away but came perilously close to losing again. Australia don't have enough good forwards to beat this All Black team when it counts most.
We've just seen their best effort, and it won't be good enough.