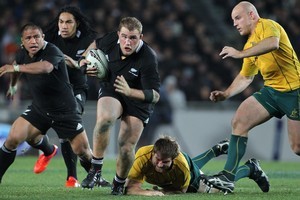 It's tiring hearing how tired our rugby players are.
The strain of wading through all the stories about exhausted footballers needing a break means there is barely enough energy left to digest the next story.
I was brought up on the legend of players busting a gut to be All Blacks, but the postscript to tests these days is akin to a fight for the top bunk with Camp Dad Graham Henry providing the ladder.
A four-game stretch rates as a life sentence and even the fearsome frontrower Owen Franks relishes a break in the name of recuperative weightlifting and eating.
At least our blokes are honest about it. Either South Africa blatantly lied about why so many top players missed the Tri-Nations trip Downunder or else their medics lucked-in with a mass response to rival a Moonie wedding.
But left to their own thinking, modern players wouldn't need these constant breaks. Either the boffins have got into their heads or they just toe the party line. Or a lot of both.
The All Blacks monitor fatigue levels in a "very scientific way", according to one of our ex-All Blacks. But if you set out to find fatigued players, you'll find them. If you keep suggesting that what they do is very tiring, they'll start squawking the same tune.
The public has also been bombarded into submission and seems to fall into line with the selectors, who are hinting that Dan Carter for one won't travel to next week's test in South Africa.
After one hectic match against Australia, all the "experts" - as one story put it - reckon Carter deserves a rest. This is the same Dan Carter who negotiated a sabbatical so he could play year-round rugby.
World Cup-related arguments for removing rugby genius Carter from the Port Elizabeth game can be mounted. But you could also argue the other way, that Carter is on a roll so let him keep rolling.
Footballers benefit from being battle hardened and finely tuned. Carter was great against Australia, but they were physically soft and he will be even greater if he keeps playing. The All Black core will benefit from constantly operating together.
If New Zealand rugby was so concerned about the fatigue issue, the NZRU could have prevented the All Black-laden Crusaders from travelling to London in the World Cup year. And if rugby is soooooo exhausting, why was phantom boxer Sonny Bill Williams allowed to knock himself about?
Give me Darren Lockyer's path to 350 NRL games, Willie Tonga's State of Origin heroics and Stacey Jones flying around the world to take on Australia any day. Finding out that Owen Franks would rather be pumping iron than playing in a test was a heartbreaker. Maybe the old forwards have earned the right to see it differently now and then, but Franks is only 23 - he should be gutted whenever he is left out. Rugby's psycho-babble merchants have already messed with his head.
As for Carter, he is already resting because the All Blacks don't have a game this week. There will be ample opportunity for R and R during the World Cup where New Zealand can thrash Canada and Japan with a B-grade side.
In terms of World Cup tactics, the All Blacks should take their stonking best team to South Africa with the aim of blasting the world champs to smithereens. That's only an opinion, of course. There are a few valid theories, but the "tired" talk definitely needs a rest.
Jersey pooling
The adidas All Black jersey price is a scandal that has rocked our great and glorious nation to the foundations. Here's one solution - jersey pooling. Buy one and share it about.
Tiger who?
What a shock to find out it was caddie Steve Williams who won those 13 major golf titles, taking lucky Tiger Woods along for the ride.