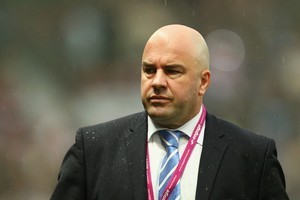 The answer to the Warriors coaching conundrum is simple - getting there is the hard part.
If everyone has their heads screwed on, Brian McClennan will be installed as the club's new coach as soon as humanly possible.
Ivan Cleary's deal ends next year, and the Penrith Panthers, whose coach Matt Elliott was dumped yesterday, are said to be on the prowl.
Let's cut to the chase; whatever the ins and outs of Cleary's situation, the time is more than right to give former Kiwis coach McClennan his chance.
Just as Auckland rugby must never forget what its true potential is, so must the Warriors keep chasing the dream. Cleary is doing a reasonable job, make no mistake. But the target for the Warriors has to be something beyond what we've seen in the Cleary era. The hunt must go on.
The oft-quoted line that Cleary gets the Warriors into the finals is a bit of a red herring - half the teams in the competition get into the finals. It's what you do once there that counts.
McClennan is, quite sensibly, keeping a low profile. He probably won't thank those of us on the sideline shoving his name up in lights.
But Kiwi candidates of his pedigree and potential rarely come along. Virtually no coach in sport is a sure bet. But if the Warriors don't grab this moment, while the man is still in his prime, they'll have missed a golden opportunity.
John Hart, one of the Warriors' movers and shakers, should understand. A founding father of one of Auckland's great rugby eras, Hart was inexplicably overlooked for sole charge of the All Blacks at the perfect time, paired inappropriately another time, and finally given a chance with most of his best coaching years behind him. He will appreciate that timing is everything.
At some point, the Warriors coaching job is likely to come down to a contest between Tony Iro, Cleary's assistant, and McClennan, and it's a no-contest for any sensible money.
Iro is firmly on the coaching ladder, but many rungs below McClennan.
McClennan has a rare coaching knack allied to an obsessive mind for the game. He has tested himself in every arena possible, with great success. He knows what makes Auckland league tick, what its true capabilities are, and how to get the best out of the city's power footballers.
Apart from Grannygate, when McClennan's Kiwis had a deliberately poor completion rate in putting the Nathan Fien family tree together, he has hardly put a foot wrong.
From Mt Albert and Hibiscus Coast to Leeds and the Kiwis, it's an NRL preparation course laced with success that simply must not be ignored.
The bottom line to the debate is this: the sky might be the limit with Brian McClennan. Iro's CV and potential just don't match.
Those who reckon Cleary is doing a great job have forgotten the potential of this club.
Take something like the Melbourne model and add New Zealand's strength and flair and, hey presto, there'll be magic in the air.
There's also an emotional angle. The Warriors were set up, in part, to give locals a chance to prove what they could do. No one has done it better in coaching than McClennan. As a player and coach, he's in a small group who've kept the league flame alive in New Zealand and that shouldn't be ignored.
McClennan is best placed to strengthen the link with the heartland, and bring magic to the Warriors not seen since the mad, glad, bad days of 1995 and the glorious moments of Daniel Anderson's reign.
His almost boyish enthusiasm will signal a new era - the remote Cleary has not helped the Warriors to connect with the masses.
The Warriors must find out what McClennan can do. It will be a sporting crime if he never gets a chance. If he fails, move on. But don't fail by not finding out.
* Todd Blackadder is in fine form. His confident fighting words are great to hear. Blackadder says the Crusaders are ready to "unleash" in the finals, and are fresh and firing.
That's the sort of talk you like to hear, and is not always common in New Zealand rugby. You never know what's around the corner. The Crusaders have surely become the people's team through their stellar Super 15 season under adverse conditions.
When the Crusaders say they're ready for a big game, you tend to believe them, unlike a few other Super 15 teams that could be mentioned. They've done their broken city proud, and we knew they would.
* Who knows what lurks beneath Christchurch, which is the point. I wonder if the Crusaders have considered setting up a more permanent second home in Nelson. Without wanting to be alarmist, it seems hard to guarantee anything about earthquakes in Christchurch any more.
The Crusaders have done magnificently this year, but they might prefer something more settled as a home away from home. If tragedy should befall their city and rugby facilities again, they'll need to do everything possible to reduce the draining effects of their wanderings.