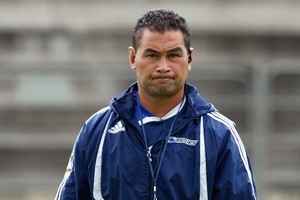 Anyone seeking a party political broadcast on behalf of the Blues had better look elsewhere.
The time has long gone when even early-season optimism can be mustered, or feigned.
"Here we go again" was the sentiment that came bobbing to the surface as coach Pat Lam dallied over who would wear the No10 jersey this year.
The opening Super salvos are just days away and, as the story is relayed, Lam's choice at first five-eighths was made for Saturday's round one match against the Crusaders because Luke McAlister is injured, leaving Stephen Brett as the No10 still standing.
Competition for places will extend to this pivotal position, we are told.
Will the Blues ever learn?
Since Carlos Spencer's departure, many moons ago, there has been a passing parade of No10s, and not a title to savour, or even close.
The first five-eighths in any team is the equivalent of American football's quarter-back, the playmaster around whom almost everything revolves. Having the same bloke there every week not only helps his confidence and operating ability, but means teammates have better instincts for what is going on.
On the other hand, desperate men - like players unsure of their position - do dangerously desperate things, something Brett and McAlister are capable enough of doing anyway.
In the battle of the flakes, I'd go with Brett, on the basis that he was schooled at the Crusaders and had the job last year.
If the choice is McAlister, so be it, and let this prodigal son get on with the job of running the team.
As for the vague suggestion that All Blacks selectors are pushing McAlister's case because he could be the latest back-up option for Daniel Carter, this should make Auckland fans cry with frustration.
Auckland needs one master, and not the old schoolmaster. This was once the city of strident, pig-headed rugby coaches and players. Auckland pushed everybody else around. Their teams were run from within, and ruled the rugby world.
ALL HOPE TO ALI
Hopefully, Ali Williams will make a successful comeback. The Blues lock was a rarity among tight forwards, a maverick, a ball runner, a character on the field.
At his best, he may have been the best lock in world rugby. The odds are against him, sadly, after such a long layoff and serious leg injuries.
SPITTING MAD
The walls continue to close in on Tiger Woods, who was fined for spitting on a green in Dubai. The man who could do no wrong can now do no right. Forget about Tiger's long stretch without a major, because he is struggling in regular tournaments these days.
A sanctimonious world has helped bring the philanderer down. This is starting to play like a Shakespearean tragedy. For a decade or so, Woods turned golf into a one-man show, based around his attempt to overhaul the Jack Nicklaus record of 18 victories in majors.
Woods felt invincible in a society that delights in trampling on private lives. That was his mistake. If Woods fails in his obsessive pursuit of golfing history he may struggle to ever find a happy ending.
DOCUMENTARY THRILLA
A video recommendation: the documentary Thrilla in Manila is as good as sports documentary - or any documentary - gets. Made by Englishman John Dower and released in 2008, Thrilla has just been screened on Prime. It looks at the brutal final meeting between Muhammad Ali and Joe Frazier in 1975, for the heavyweight boxing championship of the world.
Track down a rescreening or a DVD, because a treat awaits. The film even includes the painful sight of Frazier watching a replay of the fight for the first time.
Ali v Frazier is the most famous of sporting rivalries. I spent an hour with Frazier in Auckland a few years ago, a surreal experience where a childhood hero, and one who seemed to come from another planet at the time, sat just a short jab away.
I kept looking at those hands, the ones which were the first to lay Ali low.
Frazier's speech problems made understanding this legendary character difficult. "If you come over, give me a call," I assumed Frazier said at one point, because he ripped off a bit of paper and scrawled down his telephone number and address, a modest room above his Philadelphia gymnasium.
All those blows from Ali had apparently done their worst, though Frazier was also damaged in a car accident. This is about the only weakness in the documentary - Frazier is difficult to understand so subtitles should have been used.
But his meaning almost always gets through - including his insistence that the now-trembling Ali, who treated Frazier shockingly in a one-sided verbal joust, is still paying at the hands of Frazier for his sins.
One of the stars of this show is Ali's physician, Ferdie Pacheco, not a shy man nor prone to self-doubts, the sort of character to make any documentary-maker jump for joy. His assessments are as blunt as a George Foreman knock-out blow. I'll try to match him by stating this is by far the best sports documentary I have seen.