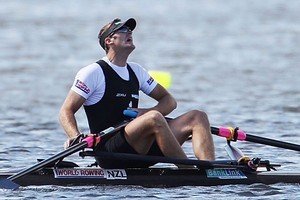 A quiet sporting weekend, with not much to report - a lull before the World Cup cricket and Super Rugby storms strike.
That was, until Wayne Rooney struck in the English Premier League derby between Manchester United and Manchester City.
The England striker scored the finest of goals, a matchwinning overhead kick involving exceptional elevation.
Rooney's legendary manager Sir Alex Ferguson suggested Rooney's strike might be the best goal he had ever seen at Old Trafford, and compared Rooney to a United legend Denis Law.
How do you rank these things?
Of its type, you probably won't see a better "bicycle kick" goal. Comparing that goal to the dribbling runs of Maradona and George Best, or a fantastic team goal of intricate passing, is a much trickier business. So why even try?
Which brings us to the Halberg awards.
Last week's outpouring of the emotive was a healthy debate, goes the claim.
More a sad one, as it has turned out.
You suddenly sensed that beneath last year's jubilation was a latent hostility which finally found a way to get out. Soccer had been given a free ride and now was the time to make the sport pay.
Charm and nuance were lost. Mean-spirited observers have even tried to play down the well-known obstacles New Zealand soccer faces, through being a small and isolated country trying to foot it in the world's biggest game.
Even the All Whites' three draws were lumped into the same basket.
Draws are a very legitimate way of progressing in soccer tournaments. The nature of the game itself means that draws are commonplace.
The All Whites did a fantastic job in drawing with Slovakia and the 2006 world champions Italy, and most importantly, these results placed them in a position where they could challenge for a place in the knockout stages.
The third group match, against Paraguay, was a disappointment though.
The All Whites were lifeless and appeared not to read the qualification situation properly.
Those in and around the team know that Ryan Nelsen (rather than coach Ricki Herbert) was in charge, and Nelsen's debilitating illness before and during the Paraguay game left him unable to exert his usual control. Herbert was ineffective. The All Whites' limitations were exposed.
Comparing all of this to the All Blacks' season is difficult, not to mention utterly pointless.
The All Blacks were often superb. Players such as Jerome Kaino took giant steps forward. But 2010 was not the point - the All Black coaches were reappointed to win the World Cup. If they don't do that, then 2010 should be counted as part of the failure.
They are playing opponents who are building squads for the World Cup. Sadly, there isn't a lot of legitimacy to what happens between rugby World Cups anymore.
As for the Kiwis, they won a low-grade tournament that is really a battle between two teams - and their Four Nations winning try against Australia was a joke that should have been disallowed.
If international league is happy to allow important tries like that, without debate, then their tournaments are hardly worth taking seriously. The Kiwis lost one and won one against Australia in the tournament.
Why do we even need the silly old Halbergs, with all those pretensions and ridiculous dinner suits?
I'm in the camp that finds almost all awards quite silly.
Each to their own but when awards are used to actually denigrate achievement, you feel an urge to activate against them.
The Halberg nonsense led to a sad business over the weekend, when the champion rower Mahe Drysdale stuck his oar in to opine that the All Whites should not have even been nominated for the finals.
What a charmless, senseless attitude to take.
Further still, Drysdale believed that it was possible for a country like New Zealand to actually win the soccer World Cup one day, another device by which he could put the All Whites' efforts in South Africa down.
Suddenly, a team that had over-achieved against all expectations is portrayed as having fallen short, just because some people didn't like the process and result of a rather muddled and useless awards system.
Drysdale seems to think if rowers can win world titles, so can the All Whites. A man who has derided the Halberg judges has no judgment himself.
One good turn deserves another, so save your breath Drysdale for more important matters, and ones you might know something about, like the riveting business of chugging up and down Karapiro all day long.
Apart from lining the useless All Whites up and beating them on the feet with sticks, it's hard to know how they can be further punished in letting the country down.
As for Dick Tayler, the Halberg judge who resigned in protest, the name Tayler now stands for sore loser.
The furore led one newspaper website reader to comment that the Halberg result was "a celebration of mediocrity" which is actually a more apt description of those who supported Tayler.
The All Whites were many things, including not perfect. Players such as Nelsen and Simon Elliott were bitterly disappointed with the way things went against Paraguay, although Herbert - as is his way - tried to accentuate the positive.
The All Whites weren't mediocre though, and only an absolute fool would deny they warranted a place in the Halberg finals.
Rooney's unforgettable goal was the weekend's highlight. The Drysdale story though was just a crying shame. He was a real hero of mine, and it hurts to know that I'll struggle to cheer for him again.

Weekend winner
Wayne Rooney's classic goal at Old Trafford.
What to watch
Rugby is upon us. The cricket World Cup might manage a wee look-in.