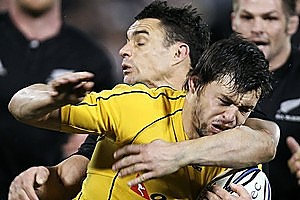 Pride and falls don't go together in test matches, or not to the extent the constant spin doctoring of modern sport would have us all believe.
The best that could be said about the Wallabies' latest performance is that it wasn't shameful, a-la the Melbourne fiasco where the All Blacks were sensational. It wasn't a hell of a lot better though.
The Bledisloe Cup remains in New Zealand, and Graham Henry's machine rolls on, led by the incomparable Richie McCaw.
Far from being worried about peaking too early, the weird concern of an introspective nation, the World Cup worriers should contemplate wonderful new mountains to climb for a team adaptable to many situations with attacking options others have never had, and never will have.
For a good luck omen, try a rabbit's foot in the pocket, rather than wishing for a team that isn't playing well.
The All Blacks have sorted out their number one lineup, can get on with the fine tuning, and give the back-ups enough game time. Pitch in Andrew Hore for Corey Flynn on the bench, replace Joe Rokocoko with Sitiveni Sivivatu, find out what state Ali Williams may return in, and there you have it - the World Cup favourites. Again.
The Wallabies have few such comforts.
Robbie Deans' mob is in serious trouble, because if this once mighty foe can't remotely threaten to win a game like Saturday night's - with all that possession - they ain't going to win anything significant in the foreseeable future, including next year.
They have pockets of test class - led by brave and brilliant David Pocock - and others who are only average Super 15 players. Pocock might bash himself into exhaustion covering for the ordinary ability of many around him.
The Wallabies were close on the board, had ample possession, yet never a chance for victory. They constructed nothing of note, and relied on a brilliantly taken try after a New Zealand error, when Dan Carter took the missionary zeal for the new age game a step too far.
New Zealand's absolute dominance is squeezing the life out of a rivalry that was once a centre-piece in the national game. We should have been on the edge of our seats on Saturday night, but as the drudgery wore on, the foot rest came out, and head rest eased into recliner mode.
Not only will the Ockers be gobbled up by any southern foe at the World Cup, they'll still be raw meat to the lions of the English pack.
The only way anybody could find anything noble about what the Wallabies achieved in Christchurch must have forgotten the traditions of combat established between the transtasman rivals over the past 30 years.
Australia's calling card has to be innovation and attack. Their fragile domestic game won't provide enough world-class forwards to match the All Blacks, who have the "grass root" supply line that the Sonny Bill Williams roadshow surged through in Christchurch, SBW kissing a few babies before heading off for his intended life of short, lucrative one-off assignments.
Deans has a dilemma. Increased backline power, via Anthony Faingaa, helped compensate for a soft pack and allowed his side to stay close, yet continuing with this will reduce any major chance of a clever enough attack that might bring victory.
Will Genia and Matt Giteau left no impression on an All Black team that switched into safety mode. Genia has been a disappointment. Giteau leaves more questions than answers about his test worth. The Wallabies need Quade Cooper in the mix, but that creates a backline ripe to be run over.
The test match started out like the perfect poster for modern rugby, Southern Hemisphere style, yet went belly-up quicker than a Fancy Dan clothes shop in Newmarket.
The Northern Hemisphere behemoths might have quivered at what they saw in Melbourne last week, but they would have been emboldened for the World Cup as the All Blacks tackled the game to a standstill.
Jonathan Kaplan made a great stand for the game though, resisting temptation to wave a yellow card at All Black Tony Woodcock.
This was the moment when rugby had to get the card brandishing nonsense out of the system, after Woodcock smashed an unsuspecting Saia Faingaa in the back. The rookie Wallaby hooker neither had the ball, nor was close to a ruck.
What Woodcock did was incomprehensible in a very Bakkies Botha sort of way - downright stupid and dangerous.
The rugby judicial system will work in this case by citing the player rather than distorting a major match. If Woodcock doesn't face the judiciary, sound the protest siren. There should be a message here for the players. They also have a responsibility, and Woodcock put Kaplan in a difficult position for no good reason.
Had there not been a furore over the yellow card madness during the week, including an official admonishment for an errant touch judge, Woodcock would have been marched for 10 minutes. You could almost see Kaplan about to pull the trigger, before having visions of Paddy O'Brien and putting his six shooter away.
Kaplan did the right thing, and set the game on a path that hopefully will be maintained. A hearing and suspension for Woodcock would help the cause even further though. If all else fails, Henry might have a word in Woodcock's ear.
Weekend winners:
The NZRU is having a whale of a time - Sonny Bill Williams is starting to reap publicity rewards of Jonah Lomu proportions.
What to watch:
The English Premier League kicks off this weekend. It has come around again fast, although not fast enough for plenty around the world.