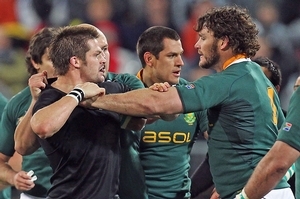 Sky started coverage of the clash between the All Blacks and Springboks by getting referee Alain Rolland's nationality wrong - putting the French colours alongside the Irishman's name.
Sounds French so must be French - a mistake a few of us have been close to making with Rolland over the years.
Rolland was French by suspicion, which is the sort of justice he meted out to Danie Rossouw, the Springbok lock, a few minutes later.
The sinbinning of Rossouw was diabolical, the distorting of a major international sporting contest on scant evidence.
You'll see more dangerous pushing and shoving in the pie queue. In fact, the pies themselves are probably more dangerous.
Rossouw used a hand to flick Richie McCaw, who was sitting on the ground, around the temple and perhaps a little close to the eyes for comfort. What ensued was the letting off of early test-match steam, a bit of push and shove with no damage done.
McCaw swiped at Rossouw with his forearm. Rossouw responded by shoving a gentle knee in McCaw's direction. Replay of the event shows the knee was not even close to making contact with McCaw's head or body, only McCaw's arm.
The All Blacks were clearly superior, on speed alone, and thoroughly deserved their second-test victory, although the lineout reverted to a shambles and they made a fair few mistakes.
What can't be ignored, though, is that the All Blacks were given a significant leg up, scoring 10 points while Rossouw was sitting down.
Rossouw would have been a big part of the Springboks' early plans to tie up possession and turn the forward battle into trench warfare. He made their first significant tackle, smashing Owen Franks backwards.
Moreover, we, the paying public, not to mention the Springboks, deserved an honest contest, and not one altered by a ridiculous yellow card. The All Blacks also deserved to have their victory scored in the fairest of conditions.
Rolland clearly stated that the yellow card was for kicking, but Rossouw did not use his boot, and did not make any significant contact with his knee.
So far in the two Tri-Nations games, we have seen a head butt go unpunished, along with a spear tackle from Jean de Villiers and a shoulder charge from Rene Ranger - actions that can seriously hurt the victims.
Yet Bakkies Botha has been sent to the sin bin for killing the ball, while the All Blacks were able to do this only under threat and without serious sanction in Wellington. Rossouw received a yellow for a bit of child's play that endangered no one.
Bok captain John Smit is frustrated with his side's lack of discipline, and understandably so. Rossouw did not need to incite the incident. But he should not have been sent off.
Rugby is getting this seriously wrong. No other sport dismisses players - and thus alters the contest - with such an off-hand attitude.
There's hardly any doubt that the All Blacks would have won anyway, and yet how do we really know? The victory was badly tainted, and needlessly so. We all got robbed.
* * *
South Africa's World Cup prospects will be best served by aTri-Nations disaster that allows them the perfect excuse to axe the Lippy Looney, coach Peter de Villiers.
Age may be starting to catch up with a couple of Springboks, notably their legendary leader John Smit. The problem is, Smit - by quiet account - actually runs the Springbok team along with veteran lineout ace Victor Matfield with input from the assistant coaches.
Smit hasn't been as prominent around the field as we've come to expect, and the Springboks have an outstanding alternative in the injured Bismarck du Plessis along with Gary Botha. The jury will also start to scratch the chin about Matfield's all-round contribution, especially with ball in hand and in the physical confrontations. As for playing Jean de Villiers on the wing - utter madness from de Villiers ... or should that be Smit.
Peter de Villiers has been a train-driver coach, able to sit back and push a few buttons as his juggernaut powers along. With rule changes and advancing years catching up with the Boks, he now has serious coaching and selecting to do. He isn't up to it and was completely outplayed by a resurgent, grinning Graham Henry.
De Villiers was a political appointment - the administration acknowledged as much about a man with no senior coaching CV.
If South African rugby had foresight and real desperation, it would realise the game is up, the joke is over, and give de Villiers the boot, and quick.
* * *
Israel Dagg scored one of the finest individual tries I recall from an All Black, followed by one of the worst mumbling television interviews - although it did reveal he had never played on the wing before. Sheer magic, that try. Slipping between two forwards was not bad, but the way he left Zane Kirchner for dead with a jink was exceptional, something to remember for all time.
When I visited Hawkes Bay to write a rugby feature a few years ago, locals insisted to me that Dagg was the next Christian Cullen. As a Cullen-worshipper, I scoffed in private, but maybe not now.
New Zealand's post-match rugby interviews are notoriously awful, where players make cringe-inducing attempts to salute team culture over individual contributions. Mock-modesty rules. Poor young Israel came across as a bemused rookie, unsure of his All Black place, merely trying to follow these traditions. Dagg looks a fabulous - if raw - test prospect though.
* * *
The writing is on the wall for league in Melbourne. The team we saw capitulate to the Warriors was a sad reflection of a glorious past. The breakup of the Storm is imminent, and they may never recover. I doubt the game will survive in Victoria. The Melbourne franchise has been done in by the NRL's administration.
Yes, they cheated onthe salary cap, but what were they supposed to do - hand their homegrown team of stars to lazy Sydney clubs who cruise around under an enterprise-busting salary cap. The Storm never assembled a team - they built the club from within through fantastic scouting and coaching.
The Sydney clubs - whose view of the game never extends past their own backyard - will be laughing their socks off. They've all but wrecked international rugby league, and now they are on the verge of seeing yet another expansion club ruined. Melbourne struggled to get decent crowds in Aussie Rules territory when they had a superstar team. They'll have no chance with also rans. Might as well close the doors now.
* * *
Dreadful news from Mt Smart: a vuvuzela sighting ... and hearing. Apparently the offender blew it as Melbourne were lining up goal kicks.
WEEKEND WINNERS
The All Blacks and Warriors. A Kiwi footy feast.
WHAT TO WATCH
... out for vuvuzelas!