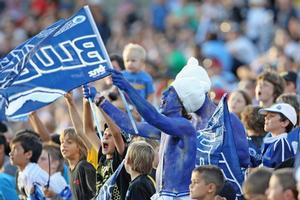 The first week of the new rugby season already looks like all of those often depressingly hopeless years gone by for the Blues.
Their faltering effort against the Hurricanes at Albany on Friday night reinforced the strong suspicion they will be also-rans again this year.
Auckland is a city of sporting decay. The smell of failure hangs around Auckland sport, in contrast to elsewhere.
The Blues' second-half capitulation against the Hurricanes, who were beautifully marshalled by Piri Weepu, was yet another soul-destroying moment in their increasingly beleaguered history.
Forget the PR BS because flaky met shaky when the Blues secured Cantabrian Stephen Brett.
Why the biggest city in a supposedly rugby-mad nation needs to go cap in hand to find players in pivotal positions tells a story in itself, that of an inability to identify and/or lure young players and fit them into long-term schemes.
Anyone who has watched Brett's over-hyped progress knows he mixes flashes of talent with the type of blunders that are part of the Blues' DNA.
Brett and the Blues are fully capable of bringing out the worst in each other, as happened on Friday when the No 10 threatened to bring home the bacon in the first half before making a pig's ear of the second.
Not that anyone should have been surprised.
There is a rugby malaise in the country's biggest city, on and off the field. A very healthy crowd of 25,000 turned up to Albany, but this is not a city with a vibrant rugby buzz.
Rugby World Cup supremo Martin Snedden was so wrong when he claimed New Zealanders were never indifferent to rugby, they either loved or loathed it. Indifference is Auckland rugby's middle name.
Aucklanders are not the most passionate of supporters anyway, as was often noted during the brilliant Ranfurly Shield run which began in the mid-1980s.
They are notoriously fickle, but you could hardly blame the masses for barely stifling the yawns as the failures have mounted up under a centrally controlled contract system that strips away the economic advantages the region could use in building teams.
Not only that, but the dazzling stars who graced teams of old are long gone, replaced by a largely inferior breed.
But head office can't be blamed for everything and you wouldn't bet on the current Blues administration succeeding even if they had more control over the purse strings.
There was a reported ticketing shambles at Albany on Friday night, to which the Blues chief executive, the ever-dour Andy Dalton, offered a "no comment" to this newspaper in an appalling piece of PR.
At least the North Harbour Stadium chief Brendan O'Connor did the right and sensible thing, apologising to fans.
People were angry and frustrated. They and everyone else interested in the game deserved acknowledgment, an indication that somewhere in the bunker a pulse was beating.
North Harbour Stadium, a magnet for problems, is an icon of Auckland sporting failure.
The Albany venue was once the unofficial home of New Zealand soccer, before becoming the graveyard for the local A-league franchise.
It was left to Wellington to rescue our professional soccer.
Soccer is now booming, by New Zealand standards, in the capital. A fantastic crowd drove the All Whites to World Cup qualification against Bahrain. The Phoenix have qualified for the A-league playoffs with an advantageous top-four spot, backed by a raucous crowd on their home patch.
Further south, a stunning crowd of 19,000 turned up to watch the Phoenix two weeks ago in Christchurch. The Canterbury faithful can rest assured that their Crusaders will be in the Super 14 title hunt.
Sage judgments would also have the Hamilton-based Chiefs right in the top-four mix, after their opening round away win over the Sharks. The Chiefs were beaten finalists last year.
Which brings us back to Auckland, where basketball's Breakers - touted, over-optimistically, as the Aussie NBL favourites - have failed to make the playoffs. League's Warriors absolutely bombed last year, as they have done in many years. Even David Beckham was a disaster in Auckland.
Not to worry. Aucklanders have got the Rugby World Cup on their mind. Some are dreaming of how to make a buck by renting their houses to overseas fans.
There is no panacea. But a winning Blues side with star quality would be a big help and is hardly too much to ask.