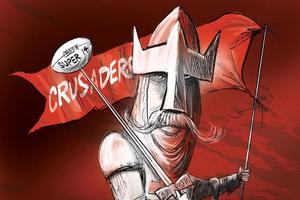 The Crusaders will win the final Super 14 - which opens on Friday - closing out another chapter for this rickety competition in the style their fans are accustomed to.
I can't see them being headed despite a few obvious weaknesses that pale to relative insignificance against defects in other teams.
The old firm has been reunited - Richie McCaw and Dan Carter are the finest double act in New Zealand sport since Mark Todd and Charisma.
Having predicted last year that the Crusaders would not retain the title without Carter and under new coach Todd Blackadder - or make that without the old coach Robbie Deans - it was a shock to see how close they came. Their top-four finish showed just how resilient they are.
The Bulls, I figured, were the 2009 favourites, yet despite winning, and winning well in the final against the flatter-to-deceiving Chiefs, the mob from Pretoria were not as convincing as they might have been through the season.
The Bulls would need to lift their game to beat the Carter-driven Crusaders.
Can one man make all the difference? Well yes, if that one man is Dan Carter.
The Crusaders will miss Casey Laulala's midfield power - his move to Cardiff marks his as a career of promise unfulfilled - but have compensated through securing Zac Guildford, whose immaculate flair is a perfect match for this team. The outside backs look a tad light in the danger department though.
McCaw is dead right when he says a crop of their players, and especially in the forwards, are reaching what should be their prime.
The Crusaders have the best pack in this competition, the one clear problem being the arguments that go on between Corey Flynn's body parts.
The Crusaders play under a red and black banner but Flynn should play under one bearing a red cross.
There are more talented backlines in the competition but none will be better organised. Even McCaw's well-earned break early in the season spells trouble for the rest.
It would be nice to predict a fine season for the Blues but who would be brave enough to do that, especially with Ali Williams gone.
Loose talk suggests a new and improved attitude in the Blues camp. Senior players are leading, and the rest are following. This sounds like a vicious rumour.
The Blues have hugely talented yet flaky backs - they will destroy someone and eventually themselves.
If indeed there is a new mantra of attack in the Super 14, this does not necessarily advantage the gifted ones who, like a rookie fast bowler hurling the ball erratically on to a green pitch, turn a licence to thrill into a licence to kill their own chances.
The Chiefs have a solid squad with spots of brilliance but their true credentials were, unsurprisingly, cruelly exposed in last year's final.
The Hurricanes are often in the hunt and should be again. We all await Aaron Cruden's influence with high interest.
The Highlanders are, at best, spoilers.
I really like the chances of the Brumbies. They have snared the two most important players in Aussie rugby - Matt Giteau and Rocky Elsom. Their great flanker George Smith will be jumping out of his skin, his test career finished, the body rejuvenated knowing that it will no longer take a year-round beating.
South African rugby is a mystery. Why, for instance, does Bryan Habana, the most dangerous wing in the game, leave the champion Bulls to join the Stormers, who have a moderate squad and were also-rans in 2009?
The Bulls are deserving champions yet a feeling in the bones says they might have one of those inexplicable South African crashes. The new laws may help them hold possession, although what they do with it is another matter. In an erratic field, to leave Victor Matfield's men out would be selection suicide.
So the Crusaders to win in 2010, while the top four will include the Bulls, Brumbies and Hurricanes.
* An Australian victory in the Super 14 - as unlikely as this seems - should be welcomed in New Zealand. Australian rugby is teetering on the brink.
The dazzling stars who propped the game up from above have gone, as have the healthy viewing figures.
Weak Australian rugby would be a disaster for New Zealand, which relies heavily on a vibrant transtasman rivalry. At the very least, rugby fans on this side of the ditch should hope for a strong Aussie showing.
* The world may be changing at a pace but the average farm still looks much the same. So why does Carl Hayman need all this help to find one to seal the deal on a return to our rugby ranks from England.
The story so far ... Hayman isn't actually dipping into the rugby coffers to buy a farm, but rugby is somehow facilitating a farm purchasing effort.
That's if I read the story correctly. Confused of Auckland here ... hey Carl, just look for a large collection of pastures, a few fences, a letterbox with a little red flag on it, some stock and in Taranaki, almost certainly a milking shed, along with a rural real estate agent.
If Hayman doesn't return in time to qualify for our World Cup squad, just pick him anyway. Simple. The NZRU are champion rule-benders and no one will care how the All Blacks won the World Cup.
At a pinch, they could introduce a clause called "Retrospective Sabbaticals", or claim they had a spare sabbatical left over since Ali Williams got crocked and took sick leave instead.
* Fred Allen turned 90 yesterday and received a civic reception, a thoroughly deserved recognition for this legendary All Black figure and icon of Auckland rugby.
There isn't anything that "The Needle" hasn't done in the game. The Eden Park brigade should find a major part of their new stadium to name after Allen, and put Sean Fitzpatrick's name up in lights while they are at it.