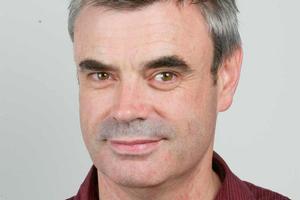 Marseille was either the brave new world for rugby or one giant twitch of the toes before the lid is banged down on it as a vibrant spectator sport while the game's superpowers set about winning the 2011 World Cup in New Zealand.
Put money on the latter, pray for the former. Then again, maybe we can live in real hope that it often turns out to be something in between.
Regardless, the All Blacks' win over France was a stunning achievement, both as a game and in the quality of a New Zealand side who took the crowd and French scrum out of the contest and started smacking the men in blue around with the sort of vigour and precision our MPs exhibit when looking for loopholes in their expenses system.
When you have quality players, and coaches not under the cosh, the game can thrive.
But to all the rugby optimists out there, think on these words: Argentina 9, Scotland 6.
It's customary for English language rugby columns involving the French to use a French phrase, so "vive Graham Henry" if he reproduces these sorts of All Black displays.
Within the current confines, which include the expertise rugby's best practitioners have in shutting down a match, this was the top level of the sport at its finest.
Even the harshest critics among us will willingly concede that Henry really showed his coaching chops in this one, and even - if he can resist meddling with his latest creation - that he might have a team ripe for lifting the ... (don't mention the World Cup).
After a season of mainly discontent, in results and performance, the All Blacks roared into life. They busted the French in every department, and scored one positively beautiful try, when Sitiveni Sivivatu and Mils Muliaina combined over long distance.
There isn't a better sight than Sivivatu cruising around, destroying opponents Rupeni-like, and he even had time for flamboyant, teasing, one-handed ball work as he put Muliaina away. The All Blacks were absolutely magnificent and Henry could take a bow for having his team primed like this for an extremely difficult final test of the year.
Unlike the match in Cardiff, where an appalling Welsh performance gave Australia a giant stepladder up, France were strong, credible opponents who were crushed by power and skill.
The return of Dan Carter from injury has changed everything, and the rest of the All Blacks are responding to having a game-controlling genius in their midst.
Carter started to show more attack yesterday morning, his game growing back and beyond. He is a sportsman of breathtaking ability, and it is contended here he is the best first five-eighths who has ever played this game.
Henry can rest easy over summer, knowing he has finally come up with a near-perfect performance, and also that he has answered a lot of the selection questions he continually poses himself.
The backline the All Blacks put out in Marseille is their No 1 unit, surely, now that Muliaina has re-established himself as the country's premier fullback.
Cory Jane has nailed down the right-wing spot - forget Zac Guildford for now - where he is, to draw a long bow, a sort of Carter of wings. Jane does all the basics brilliantly, then adds a thin layer of cream on the cake when required. None of his moves are extravagant, but they are all effective.
Conrad Smith, who may have faced a challenge from the oft-injured Richard Kahui, was sublime in Marseille. The forward selections are not quite so clear-cut.
By World Cup time, Owen Franks should be pushing Neemia Tialata hard for the tighthead spot, and the large figure of Newcastle's Carl Hayman also looms as a prospect.
Tialata is flavour of the month with the critics, but his career has always been up and down and excuse-providing Paddy O'Brien or no Paddy O'Brien, Tialata was sometimes minced by the Italians at the San Siro.
Lock Ali Williams will start if he hits his best form after an injury layoff, and the loose forwards - especially Jerome Kaino and Adam Thomson - may be rotated.
By and large though, the All Blacks have a stable unit now.
Henry should be able to twirl a few sausages on the barbecue with much greater joy than Robbie Deans.
A huge Wallaby victory in Cardiff, built on a tremendous frontrow effort, was an illusion. The Welsh defence, from the start, was woeful and their passion and fluidity non-existent. You can forgive the odd defensive alignment problem, but the one-on-one tackling was pathetic. The Welsh scrum was dreadful, especially on the tighthead side.
Australia's spread of quality players barely covers the starting XV and is quickly exposed on the bench, as it will continue to be.
Ireland carried the Northern Hemisphere flag at the weekend, and their victims, the world champion South Africans, are now officially wounded beasts after a very poor tour.
The Springboks have a static, limited, game plan which is difficult to beat when their players are on song.
There is a telling statistic from the first test against the Lions this year: the Springbok team made a total of 49 passes, whereas the Lions' halfback Mike Phillips made 76 passes on his own.
The Springboks lead the rugby method which says those who kick the most, and take the fewest risks, win the most.
But their weak spots have been obvious, including when they were scoring a harder-than-expected series win over the Lions, and storming through the Tri-Nations.
They have virtually no Plan B if their Plan A, of letting the opposition make the mistakes and kicking goals, doesn't work.
Coach Peter de Villiers is a token gesture, so they are largely self-coached by senior players who will not be harshly evaluating their own game or expanding their team's repertoire.
Captain fantastic John Smit, or is that coach fantastic, is struggling to find his true position.
South African rugby concentration can wander and they have a different mindset from the All Blacks, who rarely drop their bundle in unexpected places.
A tour of defeats is a potential wake-up call, however. Self-rule can work superbly, but it means cracks will turn into chasms.
The question might be whether this type of regime, which always had a limited life expectancy, can hang on long enough to still be effective at the World Cup.
Then again, the tried and trusted way of winning the Webb Ellis Cup is the one at which South Africa excel, especially as they relish taking drop goals and can kick penalties from well inside their own half.
* The return of the fabulous New Zealand paceman Shane Bond has immediately brought results, via a win over a Pakistani team who are to catching what Opo the Dolphin was to mountain climbing.
Bond not only scares opponents and gets wicket hauls himself, and at a world-class rate, but he lets the other less-dangerous medium quicks find their rightful place and do their best work.
With Bond back, we've got a really respectable bowling attack. They are also very likeable chaps.
If only we could find a whizz-bang opening batsman to match Bond. One of the tragedies of New Zealand's continuing top-order problems is that this Black Caps black hole has a downstream effect on other batters. One utterly reliable opener, although preferably two, and the return of the injured Lower Hutt party king Jesse Ryder, would work wonders.