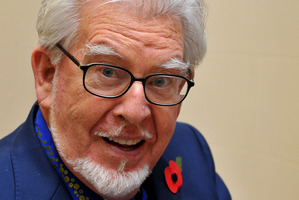 Rolf Harris has been sensationally arrested by police investigating allegations of sexual abuse following the Jimmy Savile scandal.
The veteran entertainer - who serenaded the Queen with the song Two Little Boys at her Diamond Jubilee concert last year - was interviewed by detectives from Scotland Yard's Operation Yewtree.
Harris, 83, became the 11th man to be detained over the controversial inquiry which critics say has turned into a 'celebrity witch-hunt'.
He was first interviewed - but not arrested - over alleged sex offences last November after attending a police station by appointment.
But on March 28 police took the decision to formally arrest him over the allegations, just two days before his 83rd birthday.
While he has been named widely online the national media had not named him until The Sun did so today.
Scotland Yard said: 'An 82-year-old man from Berkshire was arrested by officers on Operation Yewtree on suspicion of sexual offences. He has been bailed to a date in May pending further enquiries. The individual falls under the strand of the investigation we have termed "others".'
Australian-born Harris, a much-loved national institution who was made a CBE in the 2006 Queen's birthday honours list, is the biggest name to be held in connection with the Yewtree inquiry following the arrests of pop star Gary Glitter, comedian Freddie Starr, DJ Dave Lee Travis, publicist Max Clifford and comedian Jim Davidson.
Police gave no details about Harris's alleged sexual offences, but they are thought to be of a historic nature.
Harris is one of Britain's most iconic entertainers. Famed for his catchphrase 'Can you guess what it is yet?' when drawing cartoons, he is a musician, a singer-songwriter, a composer and a painter, as well as a television presenter and his career has spanned six decades, most notably at the BBC where he presented Animal Hospital from 1994 to 2004.
At last summer's Diamond Jubilee concert at Buckingham Palace, he led the crowd - including Princess Anne - in an impromptu rendition of Two Little Boys, his 1969 Christmas No. 1 hit. He is also famed for his 1957 song 'Tie Me Kangaroo Down Sport'.
Harris was interviewed under caution over sex allegations on November 29.
It is understood police had intended to arrest him five days earlier but he was overseas when they went to his home. They went ahead with a search of his Berkshire property, taking away computer equipment and other items.
When he returned to the UK, arrangements were made for him to be interviewed voluntarily.
Since his first police interview, Harris has been repeatedly named on the Internet in connection with Operation Yewtree.
In February Harris made a rare stage appearance at London's Southbank Centre.
His energetic performance contradicted reports that he has been suffering from depression following his questioning by police from the Jimmy Savile investigation in November.
Indeed, the packed audience seemed oblivious to Internet rumours circulating on the Internet linking him to the sex abuse scandal.
The crowd happily sang along to all his hits and laughed on queue to the 82-year-old's quips.
And the former children's television star appeared relaxed and in good health as he told audiences what he has been busy doing over the last year.
Among other things, he has made a children's book in New Zealand, which he did the artwork for and recorded as a song.
His voice was practically as powerful as in his hay day and his silly voices had not changed.
He laughed off fans who shouted they loved him and said he was their idol.
Despite his good over-all physical health, he complained of pain in his right leg.
At the end of his two-hour-long show Harris received a standing ovation from the sold-out audience.But unlike after his previous performances, Harris did not greet his fans after the show, disappointing many who stood outside in the cold for more than an hour to get his autograph.
This could have been due to the heavy media presence waiting with the fans hoping to ask him about the allegations.
His agent asked fans to leave, telling them he is 'not the same as he used to be', adding that he was tired after the long show.
Harris, who is believed to have sought psychiatric treatment following his first police interview, denies the allegations.
Detectives believe there will be insufficient evidence to prosecute the vast majority of the 11 suspects questioned under Operation Yewtree, a national probe prompted by allegations that emerged against Savile.
Details of the small number of Yewtree prosecutions emerged a day after a former BBC producer was released without charge after being arrested over an alleged sex assault in 1965.
Wilfred De'ath, 75, who spent four months on bail before being cleared, accused police of being 'over-zealous' because they had failed 'lamentably' to stop Savile's reign of terror while he was still alive.
- The Daily Mail