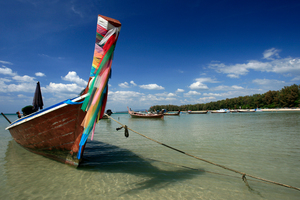 A convicted paedophile has been accused of sexually assaulting two young New Zealand brothers while they were on holiday on the Thai resort island of Phuket.
The Phuket Gazette reported on Friday that Thai immigration police had arrested Hugh Glass, a 57-year-old British man with a long history of sexual offending against children, the day before.
He was arrested in the Phuket tourist hotspot of Patong Beach.
The offending against the New Zealand children is alleged to have taken place a year ago while they were staying with their parents at a hotel where Glass worked. The brothers confided in their parents after the family returned to New Zealand.
Police spokesman Grant Ogilvie confirmed New Zealand police had received a complaint. They were liaising with Thai authorities.
The Gazette said Thai police were building a case against Glass when the British Embassy asked them to deport Glass back to the United Kingdom.
It has not been stated why British authorities want Glass returned, but it was reported Glass was arrested after an officer from the United Kingdom-based Serious Organised Crime Agency met Thai immigration police.
Glass' criminal record dated back to 1974 when he received a suspended sentence for sexual assault. He was later arrested for sexual offending between 1982 and 1990 in the US and served part of a 20-year jail sentence before being released in 1998. By 2006 he was living in Malta, where he served four years of a six-year jail sentence for the sexual assault of a child.