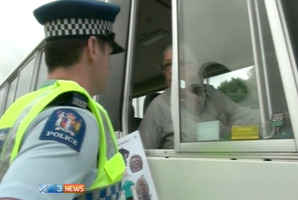 A neighbour saw a "suss looking" man taking photographs outside a primary school hours before a 9-year-old pupil was abducted.
The boy remained traumatised and silent in hospital yesterday as the sinister mystery of his ordeal entered its fifth day.
Police say they are canvassing the area after the child was found bloodied and distressed 15km from his Timaru home last Thursday afternoon.
The attack has left a community on edge. Schools have increased their security precautions, and parentsare keeping a close watch on their children.
A woman who lives across the road from the school said she was upset she did not report an unknown man she saw taking photographs with a small digital camera outside the school around 12.30pm the same day.
"He was taking photographs of the kids. It was lunchtime and they were all outside in the playground," said Catherine Sadler, 52, who lives on the street from which police think the boy might have been abducted.
She said she watched the man from behind her lounge curtains.
He was walking in front of the school for about 30 minutes, taking pictures from three different angles, she said.
"I thought it was suspicious and I know I should've called the cops - but I didn't," Mrs Sadler said.
"He looked suss and kept looking at our house to see if we were watching.
"I didn't dare go outside and approach him alone ... he had a look about him."
When her husband Brian came home shortly after the man disappeared on foot, she told him about the incident.
They decided not to phone the police, assuming the man had children at the school.
But on Sunday when a friend told them about the alleged abduction of boy, Mrs Sadler was "devastated".
"I'm kicking myself for not telling the cops last week. I feel awful."
Mrs Sadler described the mysterious man as being aged 50 to 60.
She had not seen him at the school before, neither had she seen him since. But she said she would recognise him again.
Mrs Sadler said that police had not yet called at her house, despite it being directly opposite the school.
"I'd like to tell them what I saw," she said.
"It might not be relevant but in light of what has happened, they should definitely know."
Mid-South Canterbury area commander Inspector Dave Gaskin said yesterday the entire neighbourhood had been canvassed, although he did not know exactly what police had discovered.
"Everyone in that area will have been spoken to," he said.
Officers interviewed teachers and family members over the weekend to try to get an idea of the boy's movements and establish what happened to him.
The boy was last seen at 3.15pm on the corner of Luxmoore Rd and Selwyn St in Timaru.
He usually walked home from school, police said.
He was found at Holme Station Bridge - a 15 minute drive through winding country roads - about 45 minutes later.
Police would not disclose the extent of the boy's injuries, or say whether a sexual element was involved.
He was recovering at Timaru Hospital yesterday.
Oceanview Heights School has taken extra safety precautions to make sure its children get home safely.
Extra teachers were posted at the gates yesterday and were talking to anxious parents.
A notice would be issued to all parents today, said principal Jenny Langley.
"We're very concerned for our boy and we hope he's back at school soon," she said.
Donna Wickenden, 39, has two daughters at the school, and made sure she walked her children home yesterday.
"Like everybody else I want to find out more about what has happened, but until then I'll worry."
- APNZ