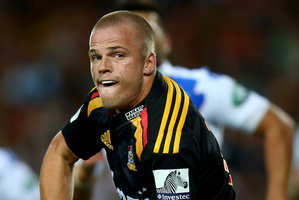 Three years ago, Gareth Anscombe was on track to be an All Black. Now he is likely to find himself playing against the All Blacks in November as the 23-year-old first-five commits to Wales.
He's hardly the first player to have chased a black jersey only to end up facing it but there's something about the way Anscombe's career has unfolded that has left it unclear whether there are any winners in his decision to sign with Cardiff, which he shortly will.
Usually defections of this nature are clearcut - everyone wins - but maybe not in this case.
Wales believe they have found gold. They have proclaimed Anscombe as their first-choice No 10 but perspective is only an occasional visitor to the Principality.
Coach Warren Gatland lacks conviction in his current options. Neither Rhys Priestland nor Dan Biggar appeal as standout players but that's not reason to hail Anscombe as the saviour.
There is history of unfancied Kiwi 10s doing well in the Northern Hemisphere. David Holwell, Jimmy Gopperth, Riki Flutey and Glen Jackson enhanced their reputations when they shifted offshore.
Even allowing for the fact Anscombe's skill-set is better suited to the game over there, it's still a gamble on Wales' part to believe they have a test first-five.
Anscombe's Super Rugby experience in the position extends to one on-off season with the Blues and a handful of games with the Chiefs.
For a nation with genuine aspirations to win the next World Cup, it's surprising they feel the need to fast-track a largely unproven New Zealander to such a critical role.
Anscombe may feel like he's a winner in all this, poised as he is to play international rugby.
It's not playing under a flag of convenience, either. His mother is proudly and unmistakably Welsh and, when Anscombe finds himself at the Millennium Stadium singing Land of My Fathers, it will have emotional resonance.
But with the Welsh not subscribing to the under-promise-over-deliver concept, expectation is going to be a heavy burden for Anscombe. He will be the Kiwi who rode into town on a promise - never a comfortable role to be assigned.
To his credit, he's committing himself to club football in Wales despite the impending chaos. The clubs are at war with the national union and the option was there for Anscombe to sign with a French outfit yet still play for Wales. That road is not for him, though. He didn't think it would send the right signals or reflect his intention to give all of himself to the national cause.
He's given himself a fighting chance at least of endearing himself to locals and, if he can deliver encouraging performances in November, he'd be just about assured a spot in Wales' World Cup squad.
Surely that all makes him the big winner. To a degree, but he'll be playing for Wales when his heart was set on New Zealand.
And he'll be playing for Wales because his pathway in New Zealand was twisted and blocked in ways it shouldn't have been.
An integral member of the successful 2011 New Zealand under-20 team, he was signed by the Blues that year on a three-season contract and touted as the best No 10 the region had produced in an age.
He was then mucked about by coach Pat Lam, who would pick Anscombe one week, drop him the next, which perhaps made it inevitable he was let go when new Blues coach John Kirwan arrived.
The Chiefs rebuilt Anscombe's confidence and gave him the chance to show he's a good footballer - he's quick, elusive and reads things well - and Kirwan has admitted his initial assessment was wrong.
The reality is Anscombe was always the No 10 the Blues needed, and still is. Despite his relative lack of specific experience, he's among the top five No 10s in the country. He'd certainly be ahead of Ihaia West, who the Blues have signed.
And that's the sadness in this story. Anscombe should be heading to Auckland charged with winning the Blues the championship.
Instead, Wales are getting a player who may not be better than the ones they already have. The Blues are losing a player who has proven he's better than the one they have and Anscombe, at 23, is committing early to what was always his second option.