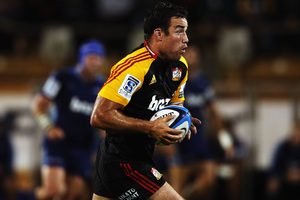 For the first time in Dave Rennie's coaching reign, the Chiefs' performances and results are posing more questions than providing answers. In losing 25-20 to the Waratahs, the Chiefs failed to fix many of the problems that surfaced in their 31-23 loss to the Reds.
The ruthless, clinical edge that carried them to the title last year has been misplaced. The patience that saw them capitalise on their seemingly endless capacity to break the line has all but disappeared.
More worrying is that for the second week in succession, the Chiefs found themselves chasing the game - having let it drift out of their grasp in the early exchanges. On Friday night they couldn't match the Waratahs for intensity, for desire, for speed, for hunger - components at the heart of the Chiefs' renaissance. Without them they won't get far and the Chiefs now find themselves in the unfamiliar position of being under increased external scrutiny.
This is what comes with being champions; a couple of poor performances and the outside world pounces, suddenly asking if the titleholders are more fallible than anyone imagined. The Crusaders got used to this in building their dynasty. They learned that there was a willing brigade poised to write them off.
The only way to react is with polish and commitment - emphatic performances that deliver convincing results which is why Rennie has made it a priority in the coming week to re-discover the passion and ferocity.
"There was a lack of enthusiasm; a lack of desperation which was the key disappointment for us," says Rennie of the defeat in Sydney. "We were out-passioned across the field and just didn't fire a shot in the first half.
"But even then, despite the fact we didn't play well, I still thought we should have won the game. We were good enough to win not playing as well as we can. What was really frustrating was that our defence, which has been a big part of our game, was not as intense as it needed to be. We slipped off tackles and we gave away a lot of yardage when we did make tackles."
With 30 points already in the bank and no other side breaking free from the pack in terms of table position, the Chiefs remain in the vanguard. But only if they draw a line under the last two performances and re-discover their precise execution.
They are unlikely to be able to use Richard Kahui to do that - he has a hamstring strain that isn't expected to heal in time for the Sharks clash on Saturday night. Andrew Horrell will definitely not be available after suffering a high ankle strain that could be season-ending, while Fritz Lee has a broken finger that could be troublesome.
Last year, questions didn't persist about the Chiefs; their results provided emphatic proof they were a team that could sustain their excellence. When they did lose their first game of the campaign, they bounced back with nine consecutive victories before losing to the Reds. Their response to that defeat in Brisbane was to return to Hamilton and beat the Bulls with a crushingly effective, brutal performance.
There was tangible evidence that they learned and adapted from week-to-week. That ability needs to be displayed again.