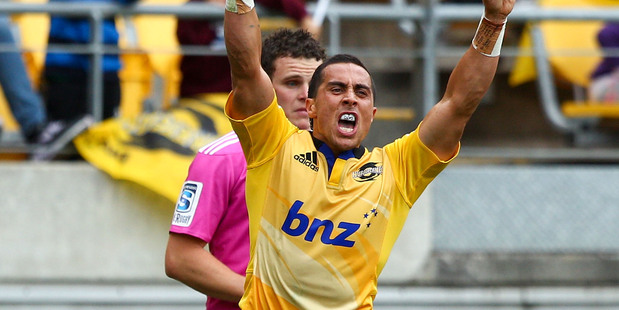 During a nine-try romp you don't expect to see a player celebrate scoring a five-pointer as if he has won a final.
But when Hurricanes halfback Chris Smylie dotted down during the first half of his side's 60-27 victory over the Cheetahs in Wellington on Saturday, the 31-year-old raised his arms above his head in celebration.
There wasn't one specific reason for the expression of joy from Smylie but for a guy who has plugged away at Super Rugby level for nearly a decade without making much of a name for himself it was the realisation of his hard work paying off.
"It was just a lot of emotion really," Smylie said. "It was a lot of relief and just to finally get a try, starting. I've been around for a long time and been through a lot of injuries, a lot of ups and downs, a lot of riding the pine."
Not many people agreed with Hurricanes coach Mark Hammett's decision to start Smylie ahead of the exciting TJ Perenara for Saturday's game but it proved a savvy selection as Smylie's calm option-taking and swift service to the backs provided a useful starting point.
Granted it was only the bottom-placed Cheetahs, but the Hurricanes were far more clinical on Saturday after opening the season with three losses and they can face Friday's game against the Highlanders in Dunedin with some confidence.
"As long as we hold the ball and play footy, that's Hurricanes football, it's simple and it's effective," Smylie said.
Hurricanes first-five Beauden Barrett had his best game of the season against the Cheetahs and Smylie said his approach to the contest revolved around providing quick ball.
"We've got the best running 10, probably in the world when he takes it to the line," Smylie said of Barrett. "So I just wanted to focus on just getting that ball in front of him, make sure that he's attacking the line."
Smylie's career has included a year with the Highlanders in 2006, a stop at the Hurricanes a season later and a stint with the Blues from 2009-11.
When he returned to the Hurricanes in 2012 he arrived as the likely starter but injuries saw him miss the season and the emergence of Perenara means Smylie has largely been consigned to a backup role.
But Smylie said he deserved another chance to start. "This year I want to make sure that I'm competing with TJ and I'm going to try to hold on to the nine jersey next week as well." That's the type of attitude the Hurricanes need after the slow start.