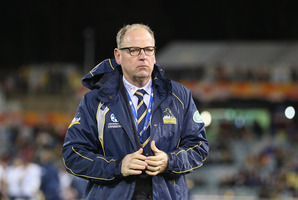 When it comes to rugby coaching, Jake White wants to operate in a manner similar to the style and methods Rod Macqueen brought to the Brumbies when he worked with them around the birth of Super rugby.
White sees himself as a supervisor who looks at the big picture and the minutiae, and arranges to knit all the pieces together.
When he takes to the training field, he's there as an observing director as his lieutenants issue instructions in their specialist fields. White empowers his staff: he's not afraid to invest in his support coaches.
It's a big contrast to the modus operandi of Robbie Deans, a hands-on, my way or the highway coach.
White brought Eddie Jones on to his Springbok staff in 2007 as he looked for more impact in the run to success that season in the World Cup.
Like Macqueen, White has a strong analytical instinct he hitches to the rugby knowledge and skills gathered in the past 30 years.
He stands back and watches his staff do their business: he doesn't feel threatened.
It wasn't always that way as he manoeuvred his way through the minefields of South African coaching for 25 years. He felt the warmth, and the icy rejection when Nick Mallett cut him from his staff.
Then there was the struggle to keep his head Springbok coaching role from 2004 to 2007 as the political forces that supported Heyneke Meyer attacked his results and credibility.
In Australia, his home for the last few years, White wants to empower his players and has found it easier to deliver that coaching avenue there than in the land of his birth.
The 50-year-old started life as Jacob Westerduin in Johannesburg but changed his name as a teen when his mother remarried. That alteration and his English-oriented education left him at odds with large sections of the Afrikaans rugby community.
When his personal sporting targets were thwarted, White began coaching, where he set his style on a strong set piece and very structured play. He hasn't varied much from those fundamentals in South Africa and in his move to the Brumbies.
They have scored 42 tries in pool play this season -10 more than the apparently dazzling Reds - which they have created from structure rather than opportunism or broken play.
They have consistently tended to use Jesse Mogg or Matt Tomua to kick them beyond halfway before they start their attacks in a formula White believes works at both Super 15 and test level.
Defence and organisation are the other non-negotiable doctrines White preaches.
Those who know him well say his people skills and general outlook have matured since South Africa.
White puts the responsibility for performance on the players and gives them the framework to attain that. Any misgivings there may have been in Canberra rugby circles about the arrival of a South African coach have been dispatched.
His methods are based on mutual respect and it's little secret White finds Australian players and staff more receptive to those concepts than his previous posts.
He's the boss, but delegates to men like Laurie Fisher and Stephen Larkham at the Brumbies and other specialists who mentor the squad.