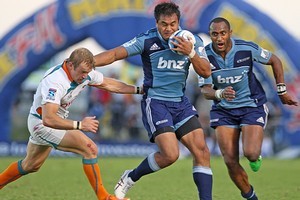 With no great pizzazz or deadly accuracy, the Blues went about the business of collecting their budgeted five points.
The rhythm they hoped to find remained undiscovered. The space they thought they would wallow in never materialised.
There was a lot of no-look passing, which was great. But a fair bit of that ended in no-catching, which wasn't great. Still, they won their third game in a row - a first under coach Pat Lam - and are sitting exactly where they would want to be on the table.
The bye is coming at the right time for them. A week off to re-discover their sharpness, rest those niggles and get their heads back into exactly the right space will be no bad thing.
They were just that little bit off against the Cheetahs - too lateral for much of the first half, too casual in contact and too eager to go wide early.
There was a lack of patience in their work. The Cheetahs played on the cusp of the offside line and as a result were able to swarm over the Blues' outside backs.
It was crying out for the forwards to do more around the fringes, to pick and drive until defenders were sucked into the middle and some breathing space given to the strike runners.
By midway through the second half the game opened up anyway, but that was more to do with fatigue and also a result of the Cheetahs' limitations.
They scored an excellent try through Sarel Pretorius when they mopped up a nasty collision between Joe Rokocoko and Rene Ranger to keep the ball alive. They kept their defensive shape and their set piece held together.
They actually got pretty close in the end but, despite the scoreline, there is no escaping the fact that for all their effort and enterprise, they never once looked like winning. In fact, it's probably fair to speculate that not one of their players took the field at Okara Park harbouring genuine hope of a victory.
They will have been delighted by the way they played and not many teams will score three tries against the Blues. Yet the competition is lacking something when teams celebrate going close.
That level of expectation seemed to weigh on the Blues. They played as if they knew anything less than a bonus point win wouldn't be good enough.
That they actually got there was largely down to the performance of Isaia Toeava, who not only scored the fourth try, but gave the Blues the dynamic edge they needed.
He has been their most potent weapon all season and fulfilled that role once again last night. His ability to fend big men off is impressive, as his acceleration and agility.
He was the creator of much of what the Blues did well and his form in these opening rounds must have just about secured him his World Cup place.
Had it not been for Toeava, it was hard to see who else was going to give them the straight running they needed. John Afoa got his hands on the ball plenty and while he moves well for a prop, he's still a prop.
Keven Mealamu had another big game, tidying up so much and driving low and hard to set the right example.
But Joe Rokocoko struggled again to have any impact. He was short of confidence, his decision-making uncertain and he didn't benefit from having several passes flung at his feet. Ranger couldn't get going and while there were some slick interchanges between Stephen Brett and Luke McAlister, they will need to have greater tactical input in future rounds.
"The bye couldn't come soon enough for us," said coach Pat Lam. "We were pleased to get the five points but it was a pretty loose performance and we made a lot of errors. The guys looked pretty tired."
Overall, though, with five wins and another four points to come next week from the bye, Lam said he was happy with where the Blues are, but not satisfied.
"There is plenty for us to work on," he said. "We can tidy up our communication and make a lot of adjustments to our game."
Blues 29 (J. Rokocoko, S. Brett, P. Saili'i, I. Toeava tries; L. McAlister 3 cons, pens); Cheetahs 22 (S. Pretorius 2, C. Oosthuizen tries; S. Ebersohn pen; N. Olivier 2 cons).