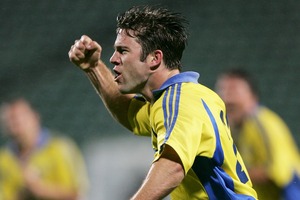 In the year of their 50th jubilee, it is perhaps appropriate that several slices of history are on the line for Central United in the Chatham Cup final today.
Should the Auckland club overcome Lower Hutt City this afternoon it will be their fifth Cup victory, after wins in 1997, 1998, 2005 and 2007 across eight finals.
Stacked with current and former ASB Premiership players, Central will start favourites. Alongside All Whites veteran Ivan Vicelich, they have Auckland City stalwarts David Mulligan, Adam Dickinson, Albert Riera and Daniel Koprivcic.
Striker Paul Urlovic played in all four of Central's triumphs and a win today would see him edge closer to Steve Sumner, who holds the all-time individual record of six Cup successes.
All these achievements highlight how far the club has come.
Central United was founded in 1962 by immigrants from the then Yugoslav region of Dalmatia. As most were keen footballers, they founded the club as a focus for their developing community.
Initially they had no home ground or clubrooms - they gained permission to train and play in Auckland Domain.
In 1965, they moved to their current home ground at Kiwitea St in Sandringham (which had been used by the Pioneer softball club). At that time there was just a tiny shed by the field - now there is a sizeable grandstand, large clubrooms and one of the best playing surfaces in the country.
"It's always the focus for the club to do well but with the 50th season, we really wanted to do well [this year]," says Vicelich.
"We've played some tough teams in the Cup this year but put in some really good performances and fully deserve to be in the final. It's very special that the club has a chance of silverware in the 50th year and hopefully we can bring that trophy back."
Opponents Lower Hutt City, who were founded 91 years ago (two years before the first Chatham Cup final), have a youthful squad but will take confidence from the fact that Central region clubs have won in the past three years.