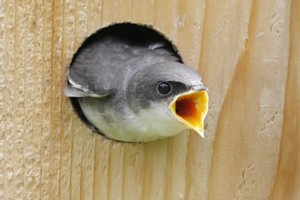 So long as you don't have any cats that regularly stalk through your garden, birdhouses are a fun and simple way to interact with nature. Brian Carlisle, a freelance graphic designer, has also turned them into an opportunity to up-cycle scrap metal. His colourful, retro-look birdhouses are bespoke pieces of recycling gold.
Via Inhabitat.
Tiny Spanish island completely wind and solar powered
El Hierro, one of the Canary islands, is putting self-sufficiency to the test with its ambitious plans to run solely on wind and solar energy. Currently, it relies on diesel oil imports which are then used to generate electricity. Once their new system is in place, they will have an 11.5 megawatt wind farm and solar thermal units; any excess energy will be stored and run through their hydroelectric plant if required.
Cars that can read your mind
At first, it may seem counter-intuitive to driver safety, but scientists in Switzerland are developing technology that will create mind-car interfacing; for instance, your car will read the signals given off by your brain, predict which way you want to turn, then do it for you. Originally developed with mind-control wheel chairs in mind, the developers behind it see potential for using the technology in cars.