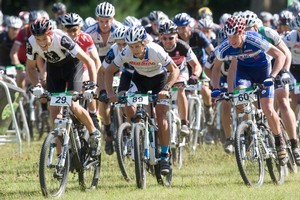 Although there are limits to how much faith you should put in a navigation system, they have become invaluable pieces of technology for many. For drivers, it's easy enough to have a navigation device installed on your wind-shield, but what about cyclists? An experimental system that will run through an Android phone application is designed to guide cyclists to their destination using directional music cues.
A bionic way to see better
Few people will be able to escape the deterioration of their eyesight as they age. Many treatment options exist, such as laser surgery, but a new procedure has been developed in which patients have a tiny implant inserted between their iris and pupil correcting their presbyopia; the long-sightedness of old age. The procedure claims to restore perfect vision to the patient, but it results in poorer night vision.
The power is within you
Modern technology is consistently eliminating the tools that lie between us and the function we want to achieve; the most recent of which being some game consoles doing away with hand-held controllers. Scientists have just gone a step further in the development of gestural interfacing by harnessing a signal given off by the human body as it interacts with electromagnetic radiation from household wiring. Their findings could see our homes calibrated to respond to predetermined gestures for controlling such household mod-cons as lights, televisions, alarms and air-conditioning.