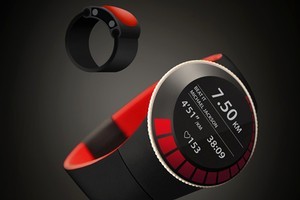 A new email service called ShameBeGone developed by Choire Sicha allows you to outsource writing awkward emails to a professional. All that is required is a description of your situation and how much you are willing to pay to have it written for you and they will send you back a carefully worded email that you can use for break-ups, make-ups and bad news.
And for those who need a nudge to get back into a fitness routine, a conceptual music player by design student Adrien Guenette combines a personal trainer and gestural technology to create a seamless exercise experience. The watch is called Beat and using it is all in the wrist; to change a song you would simply have to shake your wrist in a particular direction.
When you get home, a USB attachment lets you plug the Beat into your computer and collate the data of your run.
Unsurprisingly, Google's servers store and move around a lot of data and as a result generate a lot of heat. But recent renovations of an old paper pulp mill have created a data centre cooled by seawater. The warm water is then cooled again and returned back into the Baltic sea.