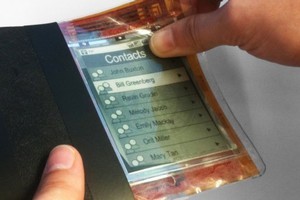 The first mobile phones were great comical slabs, but they've been losing weight over the decades since. In our current smartphone era, big is better again as screen size becomes the priority. Now, it's time to usher in the Paperphone. Although clearly in its prototypical phase, these Paperphones may offer all the digital flexibility of a smartphone, with the physical flexibility of a sliver of paper.
A mobile phone is practically a lifeline for many people - and in some ways this is a good thing. For example, parents generally have a much more direct way of contacting their children. This all comes undone if the phone's battery has not been replenished and it goes flat while its user is away from a charger and power socket. New technology may lead to phones being charged simply by the sound of our voices and general ambient noise.
Just think, a phone that never dies!
Running a pacemaker requires approximately ten microwatts, but they have a limited lifespan. Swiss scientists have developed a miniaturised hydroelectric generator which is a tiny turbine powered by the body's blood instead of water. It could potentially be inserted into a patient's thoracic artery to harvest energy for conventionally battery-powered medical implants.