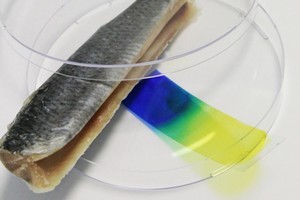 A new form of packaging developed by researchers in Munich will change colour from yellow to blue when the food items it contains have spoiled. In addition to reducing cases of food poisoning, this will decrease wastage as people will no longer have to estimate use-by-dates and will instead have an accurate test that shows whether the food is still good to eat.
Scientists in London are at the funding stage of their project to create a mutant fungus which may reduce the spread of malaria. An antibody will be inserted into the fungus and, when the mosquitoes are exposed to its spores, the malaria causing plasmodium parasite will be inhibited.
Flux Chairs are every event coordinator's dream. This flexible design is inspired by origami and when collapsed 77 of them can be stacked together reaching a height of just 1 metre.
The chairs are both light and strong making them versatile and energy-efficient in terms of transportation.