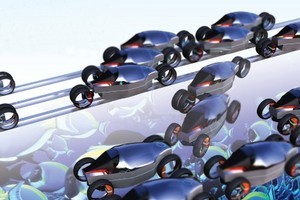 Even though many thought we'd all be using flying cars by now, it seems we might be catching up with the future when it comes to personal transport. The 2:1 Industrial Design company has proposed a rail design for personal electric vehicles, called OU, to ease traffic congestion. The cars could easily transform into non-rail versions for conventional driving.
The transformation from tree to timber rarely reflects the former glory of the tree's natural shape. This is being changed by a company called Bolefloor. Through technical expertise they are able to follow the natural contours of the original tree and still create perfectly finished flooring. This means fewer trees are making more floorboards and also creating a more organic-looking space.
The presence of graffiti in public spaces can polarise people. A new trend is emerging called "reverse graffiti".
This is where, instead of spraying onto surfaces, artists find areas with built up grime and clean away the dirt revealing their desired image. The name "reverse graffiti" is rather ironic when you consider that "graffito" is originally a scratching of the surface.