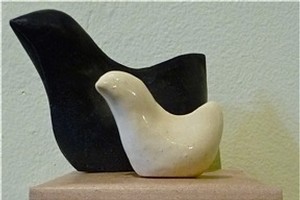 The deaths caused by the explosion of the BP oil rig in 2010 were deeply tragic and the surrounding ecosystem is still feeling the impact of the spill. Many will have seen poignant images of oil-slicked birds and animals; Tippy Tippens wants to ensure these images are not forgotten. Her fair trade bird soaps start off black and as you eventually use them up over time, you're ultimately left with a pristine white, clay bird.
You may know the agave plant for its use in tequila and as a low-GI food sweetener, but what about as a biofuel? Since agave thrives in hot, dry conditions it has potential as a long-term, alternative fuel source.
New developments in laser research suggest there may soon be an alternative to scalpels in surgery. Using a spatial light modulator, scientists have found a way to send laser pulses through a layer of paint, which emerge as coherent pulses on the other side.
This could be used to target and destroy cancerous cells.