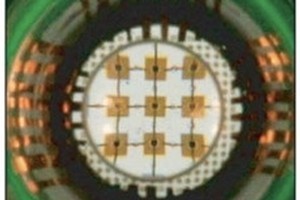 Social interactions are dependent on a person's innate ability to assess how well what they are saying is being received by another person. Never is this more important than in the act of telling jokes. One wrong move and something deeply hilarious to one person becomes offensive to another; such are the perils of stand-up comedy. But Heather Knight's robot Data has just performed his first ever stand-up show and thanks to some nifty software he can adjust his act based on crowd response.
The eyes are incredible organs due to their ability to subtly vary their shape for better focus. Meanwhile, cameras are incredible devices in their ability to zoom in on an object of choice. With their powers combined the world may now have the most advanced camera, and it's only a few centimetres small. Perfect for the eyes of a robot.
Have you ever stopped to calculate how much time you spend driving each week? Month? Year? Are they minutes, hours, days that you would like to get back? This month, the SARTRE project - who have developed self-driving auto technology - conducted their first test to successfully demonstrate a road train system. This means a line of cars will essentially drive themselves, with you as passenger, while a professional driver leads the "train".