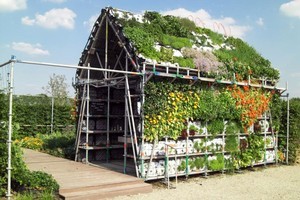 Like a collision between Hansel and Gretel, the Dutch Eethuis is an edible garden abode. In an effort to encourage people to maintain their own vegetable gardens, an eethuis (eat house) has been constructed from recyclable materials and sprouts a variety of edible greenery, freely available to the public.
Stop. Look. Listen. This is one of the many life lessons most of you ought to have learned as a child. But, will children of the electric/hybrid car era be taught to just stop and then look very carefully? New legislation in the US has called for all hybrid and electric vehicles to emit some kind of sound for the sake of safety. They've not specified what kind of sound it needs to be - perhaps the clip clop of horses as an homage to the past?
A woman in the US has been a closet 'rogue composter', sneaking her kitchen scraps into the compost bins of neighbours. But, upon sharing this idea with others, she was encouraged to make things less secretive. As a result, the idea of simply having communal composting bins between neighbours emerged. Her proposition for farmers' markets to provide compost drop-off points is also worth pondering.
The holidays can often allow for a resurgence in reading good books thanks to a few days that can be devoted to some elusive down-time. If you've been bitten by the book-worm bug, and don't want to let it slip away, here are 10 titles recommended by Mother Nature Network that are must-reads for learning more about the plight of the environment.