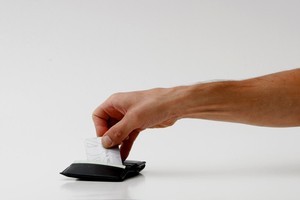 From smart chairs to smart wallets, you'll have no excuse for ever overspending again thanks to MIT Media Lab's electronic wallets. It has always been easier to monitor your spending when it was a case of physical cash disappearing from your wallet. But in the digital age, curbing your shopping enthusiasm is a lot more difficult. The three wallets manifest your rabid spending by expanding or contracting, becoming harder to open or vibrating when there is an online transaction.
If hospitals were already setting you ill-at-ease upon arrival because of their hectic and clinical feel, what do you think it will be like when you're greeted by TriageBot? A quick assessment and a smart chair in the waiting room will all assist the TriageBot in prioritising your case in the emergency room.
You can relax for now as this is still just a proposal; your friendly nurse will still be the one greeting you in the mean time.
Even the most disciplined recycler is forced to tear their hair out when confronted by laminated paper, as it is difficult, if not impossible, to recycle. A company called Flexoresearch in Thailand has developed special enzymes that destroy the laminate coating, leaving recyclable paper pulp behind. The man behind the company responsible for developing the enzymes, Paijit Sangchai, says that often these materials are burned which releases toxic fumes. This development will turn laminated paper into a viable recyclable material.