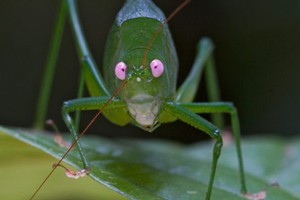 Many people have a natural bias in favour of "beautiful" animals rather than the slimy, spindly creatures that hide under stones and in trees. Although the tragic story of the tiger is close to everybody's hearts - spare a thought for some of the newest characters popping up in Papua New Guinea. They may not be as handsome as the great orange cat, but they're certainly unique.
We'd like to think that drivers are smarter than this, but in America (and no-doubt globally) thousands of people are still dying at the hands of distracted drivers. In order to thwart this behaviour, cellphone jammers may be implemented to eliminate the temptation to text or make phone calls while driving.
Remember: Just pull over.
The UK health secretary is considering the possibility of forcing the tobacco industry to ditch its branded packaging in favour of plain brown packs. The hope is that it will reduce instances of children smoking; but will this only serve to appeal to anti-corporate hipsters?