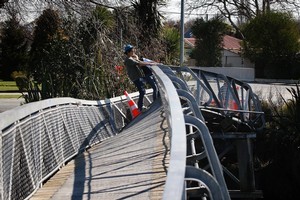 The recent Christchurch earthquake may have prompted many to consider their options in a disaster, natural or otherwise. Fortunately, Swiss programmers have developed a Linux platform for swarms of flying robots that could facilitate communication in disaster-afflicted areas.
Researchers have also made another breakthrough that could be invaluable in a similarly catastrophic situation. Studies at Tufts University have revealed that a sodium ion deficiency might be the one thing standing between us and the ability to regenerate parts of our bodies if we are injured.
Recently, Nokia broke records when it filmed Dot, the smallest movie ever made. Now in another publicity stunt the company has projected a film straight from the HDMI port of the Nokia N8 mobile phone onto the world's largest cinema screen.
Finally, the latest news in our changing world could be that we will be changing worlds in the not-too-distant-future. Astrologists believe they have discovered a planet that's "just right" for life in the Goldilocks Zone of a solar system similar to our own.