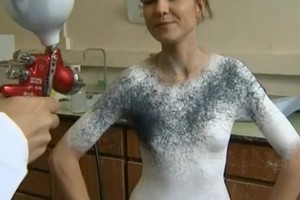 It's hard to be sure how many practical uses this new advancement in clothing technology will offer. But, it's good to know that if designers disappeared from the surface of the earth, we could turn to spray-on garments.
Meet the Magna Doodle of printing solutions: a PrePeat rewritable printer. Not only is it ink-free but when you've made use of the document you initially printed you can feed it back into the machine and use the paper again.
Not to be confused with Cold War spy fears, a wall of this beautifully designed museum in Paris has eyes. The eyes are not real but, they dilate in the same manner as real eyes to control the flow of sunlight into the building.
If you need more proof that science-fiction is becoming science-fact then this head-mounted device which projects footage directly onto your retina should be sufficient. Practical applications could include on-site instruction videos so workers can truly learn on the job!
The pessimist in me thinks that this new technological development could do more for road-rage than it does for social networking, but you be the judge. Bump.com in America is launching a new smartphone application allowing people to message another car in traffic simply by entering their licence plate number and state.