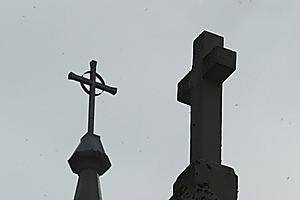 Throughout popular culture Christianity's God has been known as a lot of things. But, recently one Scottish Episcopal church has decided that the big man in the sky is no longer a male...
The days of "pass me the salt" will one day be over when everyone is armed with their own personal, portable tractor beam. As it happens, scientists have managed to move small glass beads with tractor beam energy rays and they're still refining the process.
It may be fun to play Sudoku and other puzzles to help your brain remain active well into your golden years, but have you given any thought to what goes into your diet as well? An Oxford University study tested high doses of B-Vitamins and found that they have a dramatically positive effect in strengthening your brain's resistance to diseases like Alzheimer's.
Ever wondered what skaters would be like if their skateboards were more like tanks? Fortunately, a militarised skateboard has been invented and you might actually be able to find out.
Finally, if you were concerned Romanian witches might have been getting away with not paying their taxes you were not alone. However, senators in Romania decided it was not worth the gamble to see how these "black and midnight" women would react to a tax hike.