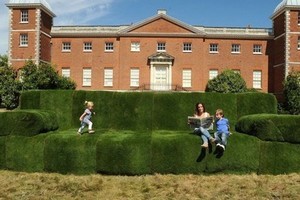 Cyclists may not have to suffer as pariahs in the media for much longer, with trends beginning to point towards cycling as a viable and - dare I say it - hip means of transportation in our changing world. You can find all you need to know about the revolutionary Copenhagen Wheel here on the MIT website - including how to use your GPS wheel to plot the least polluted route to work each morning.

And after you're locked and loaded with your eco-Copenhagen Wheel, why not cruise the UK's cycle superhighway?

Although you might now be following the gospel of Freddie Mercury, and riding your bike where you like, you have not yet reached the apex, the true pinnacle of the world's move into recyclable materials. The world is moving on, my friend, from aluminium to bambikes: fair trade bicycles with beautifully finished frames made from (the inexhaustible) bamboo.

The buzz word is green so, in as many ways as you can, sit on, under or inside something green to stave off an imminent energy meltdown. Green roofs are a somewhat luxurious but rewarding contribution to the global quest for environmental sustainability and the reduction of greenhouse gases.

Or you could just sit on a big sofa made of grass! Check out these verdant furnishings springing up in England.


But of course the big guys have gotten out their big guns and this year will see the Empire State Building undergo an $8 million green makeover (roughly NZD$17 million) with potential energy savings that equate to taking 20,000 cars off the roads.

Finally, competition is heating up as countries around the world fight to be the first to develop technology for offshore wind turbines that could each produce enough power to generate electricity for 5-10,000 homes. It's all still in the realm of CGI for now - but these are changing times.