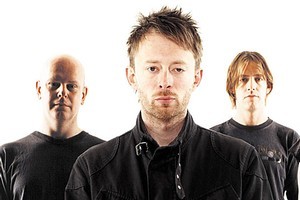 The electronic act formerly known as Mt Eden Dubstep are joining Radiohead, The Black Keys and Dr Dre at one of the biggest music festivals in the world, Coachella.
All that and much, much more is included in our daily collection of the best the web has to offer. Check it out and don't forget to post your own links below.
1. Radiohead, The Black Keys and Dr Dre with Snoop Dogg are set to headline the best musical festival in the world, Coachella 2012. The annual event is being held twice in April this year due to popular demand, and with the range of acts it's no surprise. Everyone from Pulp to Feist, Arctic Monkeys, The Big Pink, DJ Shadow, New Zealand's own Mt Eden and a reformed At the Drive-In are hitting the stage. I would massage the most disgusting, toe jammed foot in the world for a ticket. (Stereogum)
2. Here's a new song from Natalie Portman's favourite band, The Shins. Simple Song is a nostalgic acoustic ditty reminiscent of James Mercer's third album with the band, Wincing the Night Away. It might be simple deja vu, but it's still nice to have them back. (Pitchfork)
3. Jay-Z is so prolific he's already dueted with his days-old daughter Blue Ivy. Here's his new track Glory, featuring Blue's vocals - okay, so she's just whimpering a bit - at the end. (Life and Style)
4. New wave meets hip-hop, '90s alt rock and occasional R&B flourishes on The Big Pink's new album, Future This. The album's due out on January 17 and it's only 10 tracks long, so have a listen to the live stream here and wait around two weeks for Nicki Minaj to start sampling it. (NME)
5. Danny Trejo is a Bad Ass. And he likes to beat people up. That's the premise for the Machete star's new film. Here's an interesting fact: Trejo is in his 60s. Shouldn't he have given this up a long time ago? (Grantland)
6. Look mum, five people playing the guitar at once on a cover of Gotye's Somebody That I Used to Know. Although the guy on the right looks like he should be hanging out with Dexter and burying bodies somewhere. (Facebook)
7. Here's a new Odd Future track to whet your appetite for next Thursday's Powerstation show. It's gonna be mayhem. (PMA)
8. Did you like True Grit? What about No Country for Old Men? If your answers were 'yes' you'll probably be into Good For Nothing, a Kiwi-made Western directed by Weta Workshop's Mike Wallis. Grab your spurs and six shooters and get ready for big hats, bad beards and lots of shootouts. (Flicks)
9. If you're looking for some hilarious slow-mo cheese action, check out this new ad from Coke, featuring Kimberley Crossman, Midnight Youth and a bunch of extras from a local modelling agency. Snigger.
10. Yes, it's true - At the Drive-In have reunited. Let's say it again, just to prove we weren't dreaming: At the Drive-In are back. So, enjoy them at their feisty, firey best on Invalid Letter Dept and try not to mosh all over your office cubicle neighbour.
- Herald online