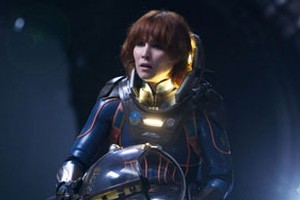 Check out our wrap of all the best entertainment-related links on the web, including the Prometheus trailer, new Thom Yorke tracks, a Raekwon mixtape and new promos for hyped new films Wrong, The Devil Inside and, erm, Shark Pool.
1. Yes, this has been out for a week or so, but go watch the Prometheus trailer again anyways. After a nostalgic Hobbit promo ridden with deja vu and little else, and a so-so Batman one, Ridley Scott's new epic is surely gonna be the movie event of 2012. June 7 seems a long, long away right now. (Flicks.co.nz)
2. Two new solo Thom Yorke tracks have appeared online after the Radiohead front man created them for a Rag & Bone fashion show last last year.
Check out the aneurysm-inducing Twist and woozy dubstep delights of Stuck Together here. (NME)
3. Looks like Tom from Home Brew took a Christmas holiday that was a little too long. His band mates started rehearsing for a new front man American Idol style - and here are the results. Warning: Includes bad language, violence and bad beards. (Twitter)
4. If you've ever seen the film Rubber, you're a stronger man than me. The directorial debut from Mr Oizo (Quentin Dupieux) was a tough watch, but his follow-up Wrong looks to be seven kinds of awkward awesomeness. Check out the trailer here. (Flicks.co.nz)
5. If you liked American Horror Story, you're gonna flip out over this. Check out The Devil Inside, an exorcism-related horror flick due out on February 2. The trailer delivered several genuine scares for me - and that was in a fully lit office in the middle of the day. Somebody hold my hand? Please? (Twitter)
6. Last year was a sporadic one for members of hip-hop collective the Wu-Tang Clan, but 2012 is already kicking off in style thanks to this brand spanking Raekwon mixtape. Download Unexpected Victories here and get a taster of it here. (Pitchfork)
7. You're a young band trying to write an album, so you head out to a deserted log cabin with a few guitars with the intention of writing some songs. Easy, right? Not in Vincent D'Onofrio's upcoming horror film Don't Go In The Woods. Check out the trailer here (Flicks.co.nz)
8. Here's another horror film trailer. The only difference is that Shark Pool is obviously a fake - but a very funny one. The line, "What are you? A marines biologist?" probably gives it away. Let's hope Steven Spielberg turns it into a full-length feature. (YouTube)
9. A dreamy new instrumental from The xx called Open Days has been out for a few days now. Use headphones. (PMA)
10. If you've never heard of Portlandia, you're obviously not a hipster. Congrats! Here's a preview of season two (it started in the US over the weekend) featuring the Battlestar Galactica marathon from hell. We've all been there. (YouTube)
- Herald online