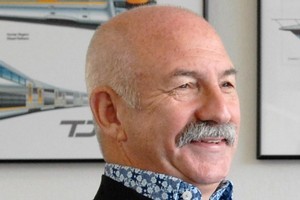 John Brown probably personifies the proverb of prophets without honour in their own country, another New Zealander whose international glow has not been reflected in his homeland.
Yet he designed the new Matangi trains for Wellington, where he grew up, and was one of two final contenders for the Metro electric train fleet in Auckland, where he was born and spent his early years in the shadow of One Tree Hill.
Most of Sydney's rail carriages are Brown's. So is the MTR Westrail in Hong Kong, Istanbul's Mamaray and the Athens Metro, where the fronts of the trains were modelled on the goddess Athena's war helmet.
"For the Greeks to get an international design, built in Asia with signature threads which go back to their history to the patron and protectress of Athens, is a pretty big deal," Sydney-based Brown says.
Trains are only part of Brown's industrial design business. He also designs boats, white goods and consumer products.
His international clients include battery giants Energizer and Eveready, Danish cookware maker Scanpan and America's VeriFone, one of the world's leading producers of secure retail and banking transaction terminals.
Brown is also a regular expert witness in design-related legal matters, has judged Australia's Wheels car design of the year, and has lectured at several Australian and New Zealand design universities.
Not bad for a boy from Greenlane's Cornwall Park School who by his own admission was an indifferent student, just managing to scrape through Wellington Boys.
But he had an early passion for drawing and design which took him in the early 1960s to Wellington Polytechnic's newly established School of Design and its visionary director James Coe, an ergonomist who insisted his industrial design students take live drawing classes to understand how people worked.
Inspired, Brown applied for places at seven leading British university design schools, and was accepted by four. He graduated with a master's from London's Royal College of Art.
For a decade Brown worked for Britain's Allied International Designers, becoming head of its industrial design division at 27.
But with his father falling ill and a family's future to consider, he headed south, to Sydney.
He founded and still heads two companies: Design Resource, which works with other design teams and partners in the US, Britain, Japan, and China, and TDI, specialising in the design and styling of passenger rail, motor boats, yachts, and features such as seating, fabrics, colours schemes and lighting.
TDI, with South Korea's Hyundai Rotem group, competed with Spain's Construcciones y Auxiliar de Ferrocarriles SA for the new Auckland Metro fleet. CAF won the contract.
"My real interest is in products, using design as a strategic tool for manufacturing companies, using the skills you see illustrated today with companies such as Apple and Sony and so on, where they add a lot of 'wow factor' to the product."
It is a philosophy that reaches back to the Art Nouveau and Deco period of the early 20th century, to the mid-century Bauhaus movement and American Raymond Loewy.
Brown also admires Streamlining.
"That was a beautiful period."
But Brown says he is at the hard commercial end of industrial design "where if you catch a taxi in Australia you have to swipe your card through the machines that we create".
"[Companies] need that design to be right up-to-the-minute and very aesthetically appropriate," he said.
"That's the game I play."
Social media and the internet play an increasingly key role, with designers checking sites that provide access to new materials, technology and electronics.
A favourite is inventables.com.
"Companies go through this organisation and say, 'We've just invented something to do with a raw material or a new technology or a light-emitting diode ... whoever can use this, come and talk to us'.
"I've got younger people in my company who just live in these spaces.
"When we do our brainstorms someone reaches back in their memory and says, 'I've seen something like that ... a material that can stop a bullet by freezing as soon as a bullet touches it'," says Brown.
It does exist. The US military is investigating the potential for soft, flexible body armour using a chemical reaction that hardens when it is struck by bullets or shrapnel.
That's innovation. The other keys Brown focuses on are the "wow factor" and the way humans and products interact.
Brown says once companies have the technology and engineering excellence, they need design to make it stand out, which often means making products smaller and sleeker.
And he says good design must also make sure products work for people.