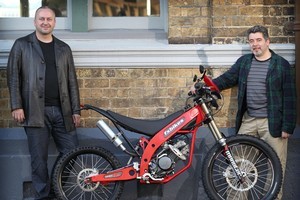 FX Bikes founder and chief executive Mike Hodgkinson plans to "do a 42 Below" with his Kiwi motorcycle firm.
The start-up, established in Christchurch in 2002, has designed and developed a 57kg dirt bike - which it claims is the world's lightest.
It can easily be picked up and put in the back of an SUV, or lifted over a farm fence.
The bike is powered by a 125cc, 4-stroke Honda-Jialing auto-clutch engine and Hodgkinson says it can do 100km/h on the flat and easily climb a 45-degree slope.
He said the company planned to begin commercial production this year.
By 2016 Hodgkinson expects to be selling 25,000 bikes a year, which will pull in revenues of around US$80 million.
At that time he wants to emulate the success of Geoff Ross's Kiwi vodka brand 42 Below - which was sold to Bacardi in 2006 for $138 million - and sell FX Bikes to a large overseas corporation, such as Honda.
"Acquisition doesn't mean it all gets handed over," he said. "We can still do the R&D and the marketing, we'll just be owned by another company."
Hodgkinson said New Zealand angel investors had put $650,000 into the project so far.
Industry experts had also put around $2 million worth of "sweat equity" - work in exchange for shares - into the company.
Another US$500,000 ($628,000) funding round was open to fund the soft launch of the bikes, which Hodgkinson said would take place this year.
He said the motorcycles would be made in northern Italy, near Milan, because that country's manufacturing infrastructure was far superior to New Zealand's.
"You've got a frame maker around the corner and you've got a shock supplier around the other corner," Hodgkinson said.
The full launch, which is planned for next year, will require a further US$5 million in funding.
The company has some industry heavyweights on its team, including former Honda chief designer Francesco Santillo and former Harley-Davidson chief engineer Michael Hillman.
Japan-based Santillo, who was in Auckland this week, is now FX Bikes' chief designer.
Hodgkinson said that both the New Zealand and US armies had expressed interest in the bike.
The US would be FX Bikes' target market, where he said the product would be popular with "extreme sports guys" and commuters.
The mass market model will sell for $5000, roughly equivalent to the price of a Vespa scooter.
But FX Bikes plans a "super premium" model - with a stainless steel and titanium frame - to sell for $30,000.